The readings and Psalm for today are a really great fit on this memorial day of St. John Vianney. Heart is what keeps catching my attention.

In the First Reading from the prophet Jeremiah we are told that the Lord will write His law upon our hearts. This is quite evident from the life of St. John Vianney. The patron saint of priests, St. Vianney is known for his prayer, fasting, and the conversion of hearts through the Sacrament of Confession.
Whenever I read or sing the Psalm, 'Create a clean heart in me, O God', I am reminded of the love of God that is so readily available to me, especially if I would just turn to Him in Confession or when I receive the Eucharist.

I, however, am a woman with a short attention span, foot in mouth disease (open mouth, change foot) and many faults. For example, I have been trying to get the song You Gotta Have Heart out of my mind as I write this. The Holy Spirit will place a nugget like a song, image, or situation before me, and in the midst of it, I find Him trying to make a connection or point, hence the song.
Did I lose you? In the Gospel Peter is made the rock due to his answer to Jesus that He is the Christ, the living Son of God. Then in the very next sentences Jesus is telling Peter, "Get behind me, Satan!" because Peter is thinking like a human, not as God does.

Peter has heart; God has clearly written on it or he wouldn't have known that Jesus was the Son of the living God, the Christ. Jesus, being the Son of the Father, has unconditional love and patience with Peter. Jesus clearly forgives Peter as soon as Peter makes a mistake. Peter wouldn't be known to us as the rock if he wasn't a forgiven, beloved child of God as are each and every one of us in the human family.

I don't want to lose heart, faith, grace or the forgiveness of God. I need prayer to help me keep my focus on my heart, on the love for my Lord to fill all parts of my body and my life.

St. John Vianney wrote a beautiful prayer to help him with this tremendous task. Please pray it with me:

I love You, O my God, and my only desire is to love You until the last breath of my life. I love You, O my infinitely lovable God, and I would rather die loving You, than live without loving You. I love You, Lord and the only grace I ask is to love You eternally… My God, if my tongue cannot say in every moment that I love You, I want my heart to repeat it to You as often as I draw breath. Amen.
---
Las lecturas y el Salmo de hoy encajan muy bien en este día conmemorativo de San Juan Vianney. El corazón es lo que me sigue llamando la atención.
En la Primera Lectura del profeta Jeremías se nos dice que el Señor escribirá Su ley en nuestros corazones. Esto es bastante evidente en la vida de San Juan Vianney. El santo patrón de los sacerdotes, San Vianney es conocido por su oración, ayuno y la conversión de corazones a través del Sacramento de la Confesión.
Cada vez que leo o canto el Salmo, "Crea en mí, Señor, un corazón puro", me acuerdo del amor de Dios que está tan fácilmente disponible para mí, especialmente si vuelvo a Él en la Confesión o cuando recibo la Eucaristía
Yo, sin embargo, soy una mujer con poca capacidad de atención, meto la pata (primero una, luego la otra) y muchas fallas. Por ejemplo, he estado tratando de quitarme de la mente la canción You Gotta Have Heart (Tienes que Tener Corazón) mientras escribo esto. El Espíritu Santo coloca una semilla como una canción, imagen o situación delante mío, y en medio de eso, lo encuentro tratando de hacer una conexión o un punto, y por eso me pone en mente la canción.
¿Te he perdido? En el Evangelio, Pedro se convierte en roca debido a su respuesta a Jesús de que Él es el Cristo, el Hijo viviente de Dios. Luego, en las siguientes oraciones, Jesús le está diciendo a Pedro: "¡Aléjate de mí, Satanás!" porque Pedro está pensando como un ser humano, no como Dios.
Pedro tiene corazón; Dios ha escrito claramente en él o no hubiera sabido que Jesús era el Hijo del Dios viviente, el Cristo. Jesús, siendo el Hijo del Padre, tiene amor incondicional y paciencia con Pedro. Jesús claramente perdona a Pedro tan pronto como Pedro comete un error. Pedro no sería conocido por nosotros como la roca si no fuera un hijo amado y perdonado de Dios como lo somos todos y cada uno de nosotros en la familia humana.
No quiero perder el corazón, la fe, la gracia o el perdón de Dios. Necesito oración para ayudarme a mantener mi enfoque en mi corazón, en el amor de mi Señor para llenar todas las partes de mi cuerpo y mi vida.
San Juan Vianney escribió una hermosa oración para ayudarlo con esta tremenda tarea. Por favor rézalo conmigo.
Te amo, oh Dios mío, y mi único deseo es amarte hasta el último suspiro de mi vida. Te amo, oh mi Dios infinitamente amable, y preferiría morir amándote, que vivir sin amarte. Te amo, Señor, y la única gracia que pido es amarte eternamente… Dios mío, si mi lengua no puede decir en cada momento que te amo, quiero que mi corazón te lo repita cada vez que respiro. Amén.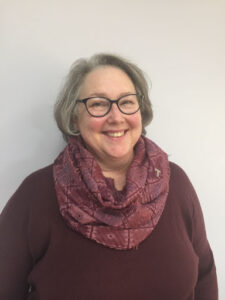 Beth Price is part of the customer care team at Diocesan. She is a Secular Franciscan (OFS) and a practicing spiritual director. Beth shares smiles, prayers, laughter, a listening ear and her heart with all of creation. Reach her here bprice@diocesan.com.
Feature Image Credit: Gera Juarez, www.cathopic.com/photo/15891-sagrado-corazon