In 2015, our family experienced an extremely difficult time. We were afflicted, perplexed, struck down, and persecuted, yet, we held onto hope. These troubles came as my husband discerned the Permanent Diaconate and I full-time Catholic ministry. The concerns had not arrived because we'd chosen to follow the call to serve Jesus; today's Gospel actually revealed He chose us. These things would have come anyway, some situations far beyond our control the results of another's free will and the fallen nature of the world. 
Yet, in faith, we never wavered in remembering we always have recourse to God. Recourse means a source of help in difficult situations. The Triune God-Father, Son, and Holy Spirit is an unfailing source of comfort, strength, and guidance in everything we encounter. As our world crumbled around us, we held firm to the grace we believe is bestowed by God to strengthen the faithful in their distress; still, these moments continually challenged our hope, faith, and trust.
In searching for a healthy way to cope with the stress and strain of this season in our lives, I started walking around my yard daily, praying the Rosary. One day, as my frustration overwhelmed me, I shouted to God, "What do you want from me?" This heavenly inquiry coincided with my reaching the end of my yard and as I turned the corner back toward the highway which runs adjacent to my home. A giant truck drove by with the word "FIDELITY" emblazoned across the trailer. Honestly, I laughed out loud. 
Gratefully, most of what we suffered at that time were, as St. Paul says to the Corinthians, "light and momentary afflictions," however, in accepting the grace God showered upon us, we glorified Him throughout it all!
---
En 2015, nuestra familia pasó por un momento muy difícil. Estábamos afligidos, perplejos, abatidos y perseguidos, pero nos aferrábamos a la esperanza. Estos problemas surgieron cuando mi esposo estaba discerniendo el diaconado permanente y yo el ministerio católico de tiempo completo. Las preocupaciones no habían llegado porque habíamos elegido seguir el llamado a servir a Jesús; el Evangelio de hoy en realidad reveló que Él nos eligió. Estas cosas habrían llegado de todos modos, algunas situaciones mucho más allá de nuestro control, los resultados del libre albedrío de otra persona y la naturaleza caída del mundo.
Sin embargo, en la fe, nunca vacilamos en recordar que siempre tenemos el recurso de Dios. Recurso significa una fuente de ayuda en situaciones difíciles. El Dios Triuno-Padre, Hijo y Espíritu Santo es una fuente inagotable de consuelo, fortaleza y guía en todo lo que encontramos. Mientras nuestro mundo se derrumbaba a nuestro alrededor, nos mantuvimos firmes en la gracia que creemos que Dios otorga para fortalecer a los fieles en su angustia; aun así, estos momentos desafiaron continuamente nuestra esperanza, fe y confianza.
En busca de una manera saludable de sobrellevar el estrés y la tensión de esta temporada en nuestras vidas, comencé a caminar por mi jardín todos los días, rezando el Rosario. Un día, cuando mi frustración me abrumaba, le grité a Dios: "¿Qué quieres de mí?" Justo al hacer esta pregunta celestial llegué al final del patio y cuando di la vuelta a la esquina hacia la carretera que corre junto a mi casa. Pasó un camión gigante con la palabra "FIDELIDAD" estampada en el tráiler. Honestamente, me reí a carcajadas.
Afortunadamente, la mayor parte de lo que sufrimos en ese momento fueron, como dice San Pablo a los corintios, "aflicciones ligeras y momentáneas", sin embargo, al aceptar la gracia que Dios nos derramó, ¡lo glorificamos a través de todo!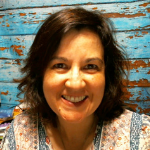 Allison Gingras is a Deacon's wife and seasoned mom of three. Allison works for Family Rosary as a social media and digital specialist, as well as a new media consultant for Catholic Mom and the Diocese of Fall River. She is the author of Encountering Signs of Faith: My Unexpected Journey with Sacramentals, the Saints, and the Abundant Grace of God (Fall 2022, Ave Maria Press). Allison developed the Stay Connected Journals for Women series including her two volumes – The Gift of Invitation and Seeking Peace (OSV). She's hosted A Seeking Heart with Allison Gingras podcast since 2015.
Feature Image Credit: Sofi Ceballos y Spina, www.cathopic.com/photo/12909-apostol-rosario
The views and opinions expressed in the Inspiration Daily blog are solely those of the original authors and contributors. These views and opinions do not necessarily represent those of Diocesan, the Diocesan staff, or other contributors to this blog.