We all have that experience of someone trying to talk to us but we are distracted by our thoughts or our actions and so it only barely registers. More often than not, the only thing that catches our attention in a situation like that is when someone calls our name. The simple use of our name is enough to demand a response, which can be a number of different things, such as, "Did you say something?" or "Are you talking to me?" 
In today's Gospel, Jesus summons the twelve apostles and sends them out on mission, proclaiming that "the Kingdom of heaven is at hand." These apostles weren't just any random followers – they were known by Jesus. He called them by name and asked great things of them. It's also significant that their names are given to us in Scripture. We are an apostolic Church, after all. It's important for us to know our roots, the beginnings of our Church. 
At first, Jesus called these twelve men to cure diseases and drive out demons and proclaim the Good News. After his Death and Resurrection, He asked them to continue the mission but with a new dimension – to break bread in His name, to celebrate the Eucharist. And so our Church spread to the ends of the earth. 
Jesus calls us by name, too. He gives us the same mission that He gave the twelve apostles. He demands great things of us. And He knows us better than we know ourselves. 
At our Baptisms, the first question that is asked of our parents is, "What name do you give your child?" The second question follows, "What do you ask of God's Church?" One of the common responses is "faith." It is this moment of our reception into the Catholic Church that we are given the mission of our faith, the same mission that we share with the apostles, "Go, therefore, and make disciples of all nations, baptizing them in the name of the Father, and of the Son, and of the Holy Spirit, teaching them to observe all that I have commanded you." (Mt 28:19-20)
Here are a few questions to ponder in prayer: Have you heard Jesus call your name? How have you responded in the past? What can we do differently to fully embrace our mission? 
---
Todos hemos tenido esa experiencia cuando alguien quiere hablar con nosotros, pero estamos tan distraídos por nuestros pensamientos o nuestras acciones, que con las ajustas escuchamos. La mayoría de las veces, lo único que llama nuestra atención en esas situación es cuando alguien nos llama por nuestro nombre. El simple uso de nuestro nombre es suficiente para exigir una respuesta, que puede ser algo como "¿Dijiste algo?" o "¿Me estás hablando?"
En el Evangelio de hoy, Jesús convoca a los doce apóstoles y los envía a la misión, proclamando que "el Reino de los cielos se ha acercado". Estos apóstoles no eran simples seguidores al azar, eran conocidos por Jesús. Los llamó por su nombre y les pidió grandes cosas. También es significativo que se nos den sus nombres en las Escrituras. Después de todo, somos una Iglesia apostólica. Es importante que conozcamos nuestras raíces, los inicios de nuestra Iglesia.
Al principio, Jesús llamó a estos doce hombres para curar enfermedades y expulsar demonios y proclamar la Buena Nueva. Después de su Muerte y Resurrección, les pidió continuar la misión pero con una nueva dimensión: partir el pan en Su nombre, celebrar la Eucaristía, y así nuestra Iglesia se extendió hasta los confines de la tierra.
Jesús también nos llama por nuestro nombre. Nos da la misma misión que le dio a los doce apóstoles. Nos exige grandes cosas y nos conoce mejor que nosotros mismos.
En el bautizo, la primera cosa que preguntan a nuestros padres es: "¿Qué nombre le dan a su hijo?" La segunda es: "¿Qué le piden a la Iglesia de Dios?" Una de las respuestas comunes es "la fe". Es en este momento de ser recibidos en la Iglesia Católica se nos da la misión de nuestra fe, la misma misión que compartimos con los apóstoles: "Id, pues, y haced discípulos a todas las naciones, bautizándolos en el nombre del Padre, y del Hijo, y del Espíritu Santo, enseñándoles a guardar todo lo que os he mandado". (Mt 28, 19-20)
Aquí hay algunas preguntas para reflexionar en oración: ¿Has escuchado a Jesús decir tu nombre? ¿Cómo has respondido en el pasado? ¿Qué podemos hacer diferente para abrazar plenamente nuestra misión?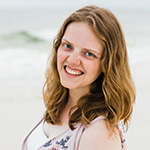 Erin is a Cleveland native and graduate of Franciscan University of Steubenville. She is passionate about the Lord Jesus, all things college sports and telling stories and she is blessed enough to get paid for all three of her passions as a full-time youth minister and a freelance sports writer.
Feature Image Credit: Jon Tyson, unsplash.com/photos/566CgCRSNCk