Have you ever had a moment where you just wanted to give up on something? Whether work or a situation or something with a friend or family member. I think we all have been in a situation where we don't feel like we have the strength to endure. I think it's safe to say that this is where Elijah found himself in the first reading for today. He was at what he believed was the end of his journey and he just wanted to be done, so he proclaimed, "This is enough, O LORD! Take my life, for I am no better than my fathers."
I may not have had a moment this tragic, but I can certainly remember a time when I felt I couldn't possibly do it. When I was in High School we went on a backpacking trip to South Manitou Island. The very first day we were supposed to walk around the entire island to get our required miles in. For those who don't know me, I am a redhead and pale as can be. The mixture of sun beating down on me all day and the absolute exhaustion from hiking on sand was enough to make me want to quit. It took everything I had to just finish that hike for the day and the sad part was that this was just a third of the miles we were supposed to go, or so we thought. After we got to our destination we realized that the map was wrong and that in just one day we ended up hiking half of our miles. We were ecstatic. A seemingly hopeless situation ended in pure joy.
This again, is what Elijah experiences. After thinking his life was over, God promptly fed him and gave him the energy and life to finish the 40 day trip. God brought joy and life out of a situation that seemed to be coated in despair. I am reminded of the movie, The Mist. I won't give away the ending for those who haven't seen it, but it is a good reminder that life is precious and we should always hold out hope that God is going to take care of us no matter what. "If you, then, though you are evil, know how to give good gifts to your children, how much more will your Father in heaven give good gifts to those who ask him!" -Matthew 7:11
I know I need this reminder constantly. So maybe today, instead of just reading this blog and letting it fade into oblivion, take a moment and tell God what is really going on in your life. Give him permission to enter into your sorrows, joys, failing, and accomplishments. Let him help you along this crazy journey we call life and don't be afraid to pray for and expect miracles to happen. It's like St. Teresa of Avila said, "We pay God a compliment by asking great things of him." Take a few minutes now before going on to your next task to tell God what you need from him today, and wait in silence for an answer. From all of us here at Rodzinka Ministry, God bless!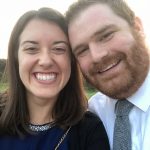 Tommy Shultz is the Founder/Director of Rodzinka Ministry and a content specialist for Ruah Woods, a Theology of the Body Ministry. In these roles, he is committed to bringing all those he meets into a deeper relationship with Christ. Tommy has a heart and flair for inspiring people to live their faith every day. He has worked in various youth ministry, adult ministry, and diocesan roles. He has been a featured speaker at retreats and events across the country. With a degree in Theology from Franciscan University, Tommy hopes to use his knowledge to help all people understand the beauty of The Faith.
Feature Image Credit: Carl Hunley, https://unsplash.com/photos/kZ_GzLAy4WM