What is faith? How big is faith? How big is it supposed to be?
How big is a mustard seed? Is tiny faith enough to do big things? Why would we ever want to move a mountain?
These are the questions my 7-year-old self asked when I first heard the words of this Gospel:
"If you have faith the size of a mustard seed, you will say to this mountain, 'Move from here to there,' and it will move."
Will it? I can't even seem to say to my children, "Move from here to there," and they will move…
Well, faith is not a thing that we can hold or measure. And it is not simply an idea that we carry in our heads, where we say we believe all things. Faith is a RELATIONSHIP. Tiny relationships with powerful Persons can indeed move mountains.
Faith is my personal relationship with the reality of God. Relationships are built on deep trust – in this case, deep, unshakeable trust in the power and goodness of a loving God. This relationship, this essential connection with the One Who IS, the One Who IS LOVE, is a sharing in the very power of God.
But it doesn't stop there. Because if my faith is authentic and selfless, if my connection with the reality and power of God is what it should be, it transforms my attitudes and creates a new vision in which I live and think and act. If my whole self is turned toward the healing and empowering Presence of God, if my faith seeks salvation and justification from God alone in Christ, then I also allow Jesus to act in me and through me AS HE WILLS, because I trust that He knows best, He gives all we need, He makes all things new! As Erasmus Leiva-Merikakis says, "It means the deep and joyful reception of the mustard seed of His life into the earth of our being, where it may grow into a fruitful Tree of Life." (Leiva-Merikakis, E. Fire of Mercy, Heart of the Word: Meditations on the Gospel according to Saint Matthew, (Vol. 2, p. 587). San Francisco: Ignatius Press.).
On our own, we can do nothing. But with faith in God, "Nothing will be impossible for you."
On our own, we are on our own. But with deep faith in God, we can be made new and filled with Life.
Let's pray that the Spirit will breathe into us this kind of true, humble, loving faith, which will allow us to be transformed and enable us to do great and beautiful things for God.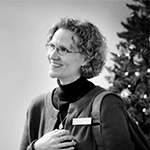 Kathryn Mulderink, MA, is married to Robert, Station Manager for Holy Family Radio. Together they have seven children (including Father Rob), and four grandchildren. She is President of the local community of Secular Discalced Carmelites and has published five books and many articles. Over the last 30 years, she has worked as a teacher, headmistress, catechist, Pastoral Associate, and DRE, and as a writer and voice talent for Catholic Radio. Currently, she serves the Church by writing and speaking, and by collaborating with various parishes and to lead others to encounter Christ and engage their faith. Her website is  https://www.kathryntherese.com/
Feature Image Credit: Joshua Lanzarini, https://unsplash.com/photos/Vct0oBHNmv4