Today is the memorial of St. John Vianney. A parish priest, St. John is known for his dedication to serving in the confessional, wise teachings and simple rhythm of life. There are two quotes attributed to St. John which came to mind while reflecting on today's Gospel about the scene between Jesus and a Canaanite woman who pleaded for her daughter's healing.
"A humble person, whether he is laughed at or esteemed, or praised, or blamed, whether he is honoured or despised, whether people pay attention to him or pass him by, it is all the same to Him."

The woman's plea was heard after she reminded Jesus that dogs too, eat the scraps from the masters' table. Her faith was rewarded; her daughter healed.
This passage from Matthew highlights God's love and mercy for all, no matter the circumstances of a person. Jesus' teachings and healing grace are available to everyone.
St. John Vianney's second quote, "The glorious duty of man is to pray and love. If you pray and love, that is where a man's happiness lies," emphasises the necessity of prayer and love. The Canaanite woman innately knew this teaching in her own life. There is a bond and connection through love to our Master, the Lord God. As the Father so loved the world He gave us His Son. As a mother so loved her daughter, she prayed for healing and received it. Alleluia!
The belief, faith, humility and trust demonstrated by the Canaanite woman, by my friend Tami (reflections recently found here in Inspiration Daily) remind me that with God, through Him, in Him, all things are possible. Personally, I have to remember the answers to prayer are in His time, not mine.

O Lord, I am not worthy to receive you, but only say the word and I shall be healed.
Amen. Alleluia.
Contact the author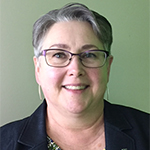 Beth Price is part of the customer care team at Diocesan. She is a Secular Franciscan (OFS) and a practicing spiritual director. Beth shares smiles, prayers, laughter, a listening ear and her heart with all of creation. Reach her here bprice@diocesan.com.
Feature Image Credit: 6155856, https://pixabay.com/photos/hand-mom-hold-power-energy-2634753/