The Gospel reading for today is by far one of my favorites, so much so that it was the Gospel at our wedding. If you have never done Lectio Divina before, this is a perfect verse to start with. Lectio Divina simply means "divine reading" and it's a way to pray through Scripture instead of just reading it. There are many different forms you can find online, but I want to share a simple form with you today and include this verse and my brief reflections. 
Begin as you would any prayer, in the name of the Father and of the Son and of the Holy Spirit. Take a few deep breaths. Try to relax and get comfortable. Take your time and do not rush. Read the Gospel for today slowly and as you read, see if anything in particular stands out to you. Take a quick mental note of the things that seem to pop off the page and thank God for speaking to you through this ancient text. 
Next, read it again and try to put yourself into the story and focus on those few phrases that stood out to you. Maybe you were struck by Peter's faith. Do you relate to his character in the story? Read slowly and prayerfully and allow yourself to enter the narrative. 
Finally, take time to just be in the presence of God. Read it one last time and then simply sit in silence. No expectations, no questions, no fleeting thoughts. Just for a moment let God love you and just sit with him in silence. A good way to do this is pay attention to your breathing and simply say "Come Holy Spirit" with every breath you take. This can help you relax and focus on the Lord's presence. 
End your time of prayer and take any notes you think may be helpful for you in the future. Whenever I pray through this verse I am immediately drawn to the fact that there are three types of people in the story. There were those who were too afraid to get out of the boat, there was Peter as he was trusting, and then there was Peter as he was sinking and crying out. I ask myself this question often and I will ask it to you today, which of the three are you? From all of us here at Rodzinka Ministry, God bless!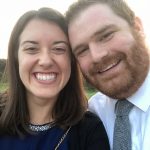 Tommy Shultz is the Founder/Director of Rodzinka Ministry and a content specialist for Ruah Woods, a Theology of the Body Ministry. In these roles, he is committed to bringing all those he meets into a deeper relationship with Christ. Tommy has a heart and flair for inspiring people to live their faith every day. He has worked in various youth ministry, adult ministry, and diocesan roles. He has been a featured speaker at retreats and events across the country. With a degree in Theology from Franciscan University, Tommy hopes to use his knowledge to help all people understand the beauty of The Faith.
Feature Image Credit: Torsten Dederichs, https://unsplash.com/photos/KrQJzrZiCak