Spend any amount of time in the Scriptures or attending Mass, and you may be tempted to let your mind drift during the readings with the misleading rationale, "I've heard this all before." While that is likely (and hopefully) true, do you take into account that each time hearing the Word of God, you are not the same person who heard it the last time? With every passing of each day, especially if we take to heart the call for daily conversion, we are a new creation in Christ. Between the first time you heard this passage in John's Gospel until today, many things happened, skewing how you perceive the message. You are older, perhaps wiser, and experienced many simple and profound moments that continue to shape you and your relationship with Jesus.
Look with renewed eyes at John's Gospel. Ask for wisdom and grace to hear and discern what wisdom or blessing God has for you today. Here are a few passages from John 6:1-15 to contemplate:
"Jesus went up on the mountain, and there he sat down with his disciples." When a Rabbi sat down, his students knew to gather near because he was about to teach, as a Rabbi always taught from a seated position.

Jesus said, "Have the people recline." Jesus' instructions for the people to recline placed them in a posture that prepared them to receive God's blessings. Here the blessing would soon be bread and fish to satisfy the hunger of all present and a powerful prefiguration of the True Food; He will come to satiate far more than our physical hunger.

"Then Jesus took the loaves, gave thanks, and distributed them to those who were reclining." During the Miracle of the Multiplication of the Loaves and the Fishes, we hear what should be familiar words to the faithful. The taking, blessing, and breaking of bread all with a heart of thanksgiving to God—a formula we see again when Jesus institutes the Eucharist.

When they had had their fill, he said to his disciples, "Gather the fragments left over, so that nothing will be wasted." The disciples filled twelve wicker baskets with the remnants. All those present, reclined, and trusting were satisfied with still an abundance left over. Truly, God's generosity cannot be matched or depleted.

"Since Jesus knew that they were going to come and carry him off to make him king, he withdrew again to the mountain alone." Jesus, though indeed King, withdrew to avoid the people's actions because His Kingdom is not of this world. The people wanted Him to attend to their physical needs; however, He desired a far more critical calling to care for their spiritual well-being. Again and again, we see Jesus withdraw to make time for prayer, quiet contemplation, and time along with the Father, an example we can also learn from and emulate.
What new things did you notice in reading today's Gospel? What words or actions touched your heart or intrigued you? Where do you see God speaking to you, teaching you, maybe even challenging you? Are you willing to come closer, recline, listen, and be fed by Jesus?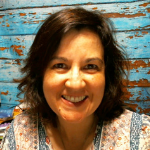 Allison Gingras works for WINE: Women In the New Evangelization as National WINE Steward of the Virtual Vineyard. She is a Social Media Consultant for the Diocese of Fall River and CatholicMom.com. She is a writer, speaker, and podcaster, who founded ReconciledToYou.com and developed the Stay Connected Journals for Catholic Women (OSV).   
Feature Image Credit: Elmer Cañas, https://unsplash.com/photos/QIm1tLnDNHo
The views and opinions expressed in the Inspiration Daily blog are solely those of the original authors and contributors. These views and opinions do not necessarily represent those of Diocesan, the Diocesan staff, or other contributors to this blog.