"To some God and Jesus may appeal in a way other than to us: some may come to faith in God and to love, without a conscious attachment to Jesus. Both nature and good men besides Jesus may lead us to God. They who seek God with all their hearts must, however, some day on their way meet Jesus." 
-Heinrich Weinel and Alban G. Widgery, Jesus in the Nineteenth Century and After
Last Sunday, in the Old Testament reading, we heard God's promise to a suffering people that he would take care of them. God's fulfillment of that promise is Jesus, his very Son. 
Today, we hear the parable of the Sower of the Good Seed. It was a smack-my-head moment, one of those, why didn't I ever see this before moments of clarity. I spend way too much time focusing on the wrong part of the job. We love to see the fruits of our labors. Our society values those who complete a process, those who "bring home the bacon", who reap what they sow.  But the reaping, bringing in the crops, just plain isn't my job. I don't get to decide what (or who) is good and truly beautiful. I don't make the call as to what (or who) is worthy of the Kingdom of God. I am not called to harvest the crop and everytime I become more concerned with how it all turns out, I am off task. I am not called to harvest the crop, I am called to sow the crop. Jesus will handle the harvesting, that's His job, that is the fulfillment of the Old Testament promise. 
It isn't my job to worry about what people do after they meet Jesus. My job is to live my life in such a way, that each and every action I take is a sowing of good seed. The more good seed I sow, the more likely the people I encounter will have the opportunity of encountering Jesus through me. Jesus doesn't deal with people the way we do. When Jesus encounters someone, he leaves them changed forever. But before that can happen, the seeds have to be planted. They have to blossom and be like the sunflower gardens that invite you to get lost in the beauty and eventually to look up beyond the flowers and see the sun itself.
So for today, I am going to let go of my vision of what things should be like, and I am going to put my effort into the part of the Kingdom God has placed in my care. I am going to sow seeds of love and acceptance. I am going to stand for those who have no one else to stand for them. I am going to go outside of what makes me comfortable to give comfort to others. Then, just maybe, they will get lost in the beauty and look beyond this world and see the Son himself.
He'll bring them home, that's His job. I just need to sow the seeds.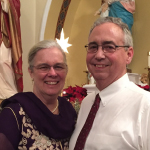 Sheryl O'Connor delights in being the number 1 cheerleader and supporter for her husband, Tom who is a candidate for the Permanent Diaconate in the Diocese of Kalamazoo. They are so grateful for the opportunity to grow together in this process whether it is studying for classes, deepening their prayer life or discovering new ways to serve together. Sheryl's day job is serving her community as the principal for St. Therese Catholic School in Wayland, Michigan. Since every time she thinks she gets life all figured out, she realizes just how far she has to go, St. Rita of Cascia is her go-to Saint for intercession and help. Home includes Brea, a Bernese Mountain dog and Carlyn, a very, very goofy Golden Retriever.
Feature Image Credit: https://images.unsplash.com/photo-1600385634209-f945c7835f2c?ixid=MnwxMjA3fDB8MHxwaG90by1wYWdlfHx8fGVufDB8fHx8&ixlib=rb-1.2.1&auto=format&fit=crop&w=975&q=80