The mystery of human life is truly amazing. I can't believe how my kids love to lay on my belly, rub it and give it kisses. They can't wait for their little sister to come out! Just the other day, my six-year-old said to me, "Mommy, 'little coconut' will be out soon, so can we take a picture so I can remember when she was still in your tummy?" So we took turns with all the boys taking pictures of them hugging, kissing or rubbing my (very large) belly.
All during his illness, my son took such comfort in his unborn little sister. Whenever he wasn't feeling well, he asked me to come over to his bed so he could be near her and give her kisses. He always talks about how she is such a little cutie and tells me 5-20 times a day how he wants her to come out. I keep reminding him that if she comes out too early she will have to stay at the hospital for a long time and he won't be able to see her anyway, but he continues saying it over and over and over. Now my husband and my other sons are saying it too, but I'm pretty sure, no one wants her out more than mommy!
In the First Reading, the children of Israel were given a whole new life, one free from slavery and oppression, but instead of praising God for His wondrous love, they come to Moses with one grumble after another. Just like my son wants his sister out so bad, they wanted to get out of Egypt something fierce! They prayed and prayed for deliverance, and God heard their prayer.
What confounds me is that even though the Israelites don't ask nicely, God still listens to them and provides for their needs.
"Here in the desert the whole assembly of the children of Israel grumbled against Moses and Aaron. The children of Israel said to them, 'Would that we had died at the LORD's hand in the land of Egypt, as we sat by our fleshpots and ate our fill of bread! But you had to lead us into this desert to make the whole community die of famine!' [ ] The LORD spoke to Moses and said, 'I have heard the grumbling of the children of Israel. Tell them: In the evening twilight you shall eat flesh, and in the morning you shall have your fill of bread, so that you may know that I, the LORD, am your God.'"
He doesn't say to them "You bunch of whiny babies, get a grip! I delivered you so I could watch you starve in agony! Mwaaa haaa haaa!" No. He grants them meat and bread to eat. He wants them to live.
In the same way, He wants us to live. And whether we know how to ask or not, He grants our needs. He gives us Bread from heaven (ref. Psalm Response) to nourish us on our journey. He gives us new life to grant comfort and joy. Let us thank God today for the gift of life.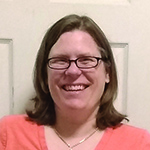 Tami Urcia grew up in Western Michigan, a middle child in a large Catholic family. She spent early young adulthood as a missionary in Mexico, studying theology and philosophy, then worked and traveled extensively before finishing her Bachelor's Degree in Western Kentucky. She loves tackling home improvement projects, finding fun ways to keep her four boys occupied, quiet conversation with the hubby and finding unique ways to love. She works at her parish, is a guest blogger on CatholicMom.com and BlessedIsShe.net, runs her own blog at https://togetherandalways.wordpress.com and has been doing Spanish translations on the side for almost 20 years.
Feature Image Credit: Aditya Romansa, https://unsplash.com/photos/5zp0jym2w9M