As I was sharing with my sister-in-law all that my son has been through, I told her this felt like the song that never ends. She responded, "more like the nightmare that never ends". And she was right. It has seemed more like a nightmare, but low and behold, it appears it has come to an end. After two full months including three five-day hospital stays, two surgeries, several procedures, a catheter, blood draws, countless IV's, a few follow-up appointments, two weeks with an abdominal drain and two weeks on a feeding tube to administer meds, my son is left with a healthy body and 5 or 6 small scars on his belly to show for it. All that remains is to build up his strength and his appetite so he can enjoy the rest of the summer.
In today's Gospel Jesus proclaims: "…whoever loves son or daughter more than me is not worthy of me; and whoever does not take up his cross and follow after me is not worthy of me. Whoever finds his life will lose it, and whoever loses his life for my sake will find it."
This hit me right between the eyes. I have been focusing so much on my son that my relationship with my God has gone by the wayside. Do I love my son more than my God? Has this trial been a cross that I am called to take up? Have I been trying to find my "normal" life these past two months only to realize I have lost it? Although I don't think I could ever be worthy of God, I would hate to become unworthy from my own doing…
Bishop Barron's reflection today held a great reminder: "'And I will make you fishers of men.' This is one of the best lines in Scripture. Notice the first part of the phrase: 'I will make you.' God is the one who makes us from nothing. To live in sin is to live outside of the creative power of God, to pretend that we can make ourselves. How wonderful that he tells us that he will make us!"
It is God who allows us to walk into the storm and it is God who leads us out of it. He molds us, shapes us, transforms us and makes us with each and every experience we live.
Our Psalm Response echoes this sentiment: "Our help is in the name of the Lord."
Sure, I have received help from others, from family and friends who have supported me during this time, from doctors and nurses who have done their best to take care of my son, from perfect strangers who have prayed or sent gift cards for a meal, but it has all been the Lord working through them. My true stronghold, my one and only Sustainer is the Lord. I cannot rely on my own power or feeble strength.
So as this season comes to a close and we turn our focus on welcoming our fifth child soon, I pray that you also be reminded that God is in charge of making you and that your help is in His name alone.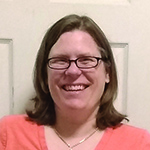 Tami Urcia grew up in Western Michigan, a middle child in a large Catholic family. She spent early young adulthood as a missionary in Mexico, studying theology and philosophy, then worked and traveled extensively before finishing her Bachelor's Degree in Western Kentucky. She loves tackling home improvement projects, finding fun ways to keep her four boys occupied, quiet conversation with the hubby and finding unique ways to love. She works at her parish, is a guest blogger on CatholicMom.com and BlessedIsShe.net, runs her own blog at https://togetherandalways.wordpress.com and has been doing Spanish translations on the side for almost 20 years.
Feature Image Credit: Ben White, https://unsplash.com/photos/ReEqHw2GyeI