My kids' bedtime stories consist of a good mix of library books, super hero conquests, animal adventures, outer space voyages and Bible stories. But about once a month, they pull out their baby albums and love looking at themselves as newborns. It's hard for them to believe they were so little. 
Sometimes they also ask me to sing to them. One of their favorite songs is about Zaccheus, the tax collector: "Zaccheus was a wee little man, a wee little man was he. He climbed up in a sycamore tree, for the Lord he wanted to see. 'Zaccheus! Come down! For I'm going to your house today. I'm going to your house today." 
While three of my sons were born at about 8lbs 9oz and 21 inches long, my second son was born at two pounds and two inches less. He wasn't a premie, he has just always been smaller. He knows he's my little one, so one day he said to me, "Mommy, I'm just like Zaccheus, aren't I? Because I'm small too!" 
I wonder if the apostles who were sent out to evangelize in today's Gospel also felt small. They were told: "take nothing for the journey but a walking stick—no food, no sack, no money in [your] belts." Were they scared, wondering if their needs would be met? Did they wonder if they were important enough that people would actually listen to them? 
We don't have to do great things to make a difference. We just have to do what God asks us to do. I love the example of St. Therese of Lisieux and her little way. She just did small things with great love. 
Perhaps the apostles did feel insignificant or unworthy but in the end they believed in the power of God. They trusted that He would work through them and "so they went off and preached repentance. [They] drove out many demons, and they anointed with oil many who were sick and cured them."
I remember one particular moment when I was in the hospital with my son that I really thought I couldn't do it anymore. Instead of asking God to give me the strength to go on, I begged Him, "God BE my strength". And He did. I was too small to endure on my own, but asking God to take over and become my strength granted me the grace I needed. 
God can do so much with our smallness as long as our willingness is included. May the Lord be your strength today.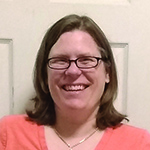 Tami Urcia grew up in Western Michigan, a middle child in a large Catholic family. She spent early young adulthood as a missionary in Mexico, studying theology and philosophy, then worked and traveled extensively before finishing her Bachelor's Degree in Western Kentucky. She loves tackling home improvement projects, finding fun ways to keep her four boys occupied, quiet conversation with the hubby and finding unique ways to love. She works at her parish, is a guest blogger on CatholicMom.com and BlessedIsShe.net, runs her own blog at https://togetherandalways.wordpress.com and has been doing Spanish translations on the side for almost 20 years.
Feature Image Credit: Liane Metzler, https://unsplash.com/photos/B32qg6Ua34Y