In today's Gospel we hear of Jesus returning to His native place and preaching in the synagogues. Those he encounters, however, doubt and question Him. Mark recounts that "…he was not able to perform any mighty deed there…" and "He was amazed at their lack of faith." Jesus' inability to perform any mighty deeds is not a testament to His lack of power or strength, rather it is a testament to the peoples' weakness and lack of faith. The miracles Jesus performed, be they small or big, were not just His way of proving that He is the Messiah that was sent to heal us of our sins. They were also proof of the faith of those who believed in Him.
The Second Reading stands in contrast to the Gospel in that St. Paul shows tremendous faith whereas the people of Jesus' native place show a tremendous lack of faith. In St. Paul's letter to the Corinthians, he writes "…I am content with weakness, insults, hardship, persecutions, and constraints, for the sake of Christ; for when I am weak, then I am strong." I think this can be a difficult passage to understand and to digest. St. Paul turns his suffering, the thorn in his flesh, into a means for praising God! He sees his suffering as an opportunity to take refuge in God and His strength. It is Paul's faith in Christ that allows him to be content with weakness and persecutions. 
It's easy to read these two readings and recognize that Paul is the one to whom we should look as an example of faith. But how often do we reject Christ in our own lives? How often do we expect Him to perform great miracles in our lives but do not have the faith that He actually can or will? How often do we grow angry at God when we suffer rather than recognizing our suffering as an opportunity to unite our suffering with His?
May we be like St. Paul who, in his suffering, turned to God in humble prayer and allowed the strength of Christ to work through his weakness.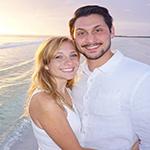 Dakota currently lives in Denver, CO and teaches English Language Development and Spanish to high schoolers. She is married to the love of her life, Ralph. In her spare time, she reads, goes to breweries, and watches baseball. Dakota's favorite saints are St. John Paul II (how could it not be?) and St. José Luis Sánchez del Río. She is passionate about her faith and considers herself blessed at any opportunity to share that faith with others. Check out more of her writing at https://dakotaleonard16.blogspot.com.
Feature Image Credit: Yael Portabales, https://www.cathopic.com/photo/2845-estatua-san-pablo-extramuros