In today's Gospel, we read that the Pharisees questioned why Jesus sat for a meal with tax collectors and sinners. Jesus responded: "Those who are well do not need a physician, but the sick do. Go and learn the meaning of the words, 'I desire mercy, not sacrifice.' I did not come to call the righteous but sinners." 
Jesus' words should be a huge relief to us, for we are all sinners. We all need the salvation that He came here to offer us. 
And through the Sacrament of Reconciliation, we can be absolved of our sins. We can tell God we're sorry. And we can promise to try to sin no more.
Yet He knows we will sin again. And invariably we do. So we pick ourselves up and try again. That's all He asks—that we keep working at following His laws and becoming closer to Him.
And sometimes we envy those who got to sit at the table with Him, who had the chance to talk with Him, who heard His voice, and who listened to His stories. Maybe we even think: If only I could sit down to dinner with Christ, how much different my life would be.
But we can! We can sit down to dinner with Christ every day in the celebration of the Mass. At Mass, we listen to His word. We sit in His presence. We sing hymns of praise. We pray and tell Him we love Him. And, if we are free of mortal sin, we can eat of His flesh and drink of His blood.
There is nothing more amazing than that!
As Catholics, we are so incredibly blessed to be able to partake in the Eucharist, for the Eucharist really is the body, blood, soul, and divinity of Christ. 
What a gift!
If we truly contemplate this miracle, we would be running to the confessional then skipping to church so we could receive Communion. 
But even once we're there in Mass, we find ourselves getting distracted. Maybe the music is of poor quality. Maybe people are making noise. Maybe we can't hear the homily. So our minds begin to wander away from the table and away from Christ. We are no longer eating with Him but drifting aimlessly and alone.  
It is at these times that we need Him the most. 
When this happens, ask Him to draw you back to the table. Tell Him how much you love being with Him. 
And as you think about that meal where He spoke to the Pharisees, understand that he was talking about you. 
He came here for you. He came here for me. We are the sinners He died for. Let us never forget that.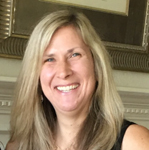 Susan Ciancio has a BA in psychology and a BA in sociology from the University of Notre Dame, with an MA in liberal studies from Indiana University. For the past 17 years, she has worked as a professional editor and writer, editing both fiction and nonfiction books, magazine articles, blogs, educational lessons, professional materials and website content. Eleven of those years have been in the pro-life sector. Currently Susan freelances and writes weekly for HLI, edits for American Life League, and is the editor of Celebrate Life Magazine. She also serves as executive editor for the Culture of Life Studies Program-an educational nonprofit program for K-12 students.
Feature Image Credit: Exe Lobaiza, https://www.cathopic.com/photo/7504-aqui-esta-pan-verdadero