John the Baptist was in such anticipation of his relationship with Jesus that he lept within his mother's womb. 
Today, we celebrate the birth of this man who was so excited about being with Jesus, that he couldn't even wait to be born before turning cartwheels out of the joy of being close to Jesus. 
This is a man who as an adult lived in the wilderness, wore "camel's hair" garments, and preached repentance. He ate locusts and wild honey. You have to think John the Baptist kind of stood out in a crowd, and not always in a good way. 
To the people of his day, John's clothing would have evoked thoughts of the prophets, most notably Elijah. His diet would have been that of the poorest of the poor and would have been in stark contrast to the wealthier of the Jews; the ones who found success in cooperating with the Romans. John didn't seek out crowds, he lived an ascetic lifestyle so severe that some thought he may have been possessed by a demon. (Mt 11:18)
Yet for all his roughness and anti-establishment lifestyle, multitudes of people sought him out. They listened to his message and were baptized. John's message of preparing for the coming messiah spoke to the emptiness in the hearts of people and they believed the truth.
The truth speaks to the hidden parts of people. It fills them up and the joy just bubbles out and attracts others. Joy isn't brought about by the stuff of this word, the trappings of our earthly lives. Joy comes from being near the One who is the Way, the Truth, and the Life. 
How can we be a little more like John the Baptist? When John leapt in Elizabeth's womb, Jesus was hidden in the womb of Mary. Every time we approach the altar, we are near Jesus hidden in the bread and wine. I am not suggesting anyone do cartwheels down the aisle at Mass, but do we approach Jesus with joy and anticipation? Do we take the time to prepare our hearts and minds to fully be present to Jesus as he comes to us? Do we go away from our encounter with him changed in heart and mind? Do we live the truth of the Eucharist with so much joy that others are drawn to us, so that like John the Baptist, we too can point them to Jesus and say, "Behold the Lamb of God"?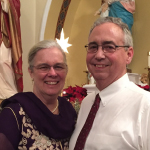 Sheryl O'Connor delights in being the number 1 cheerleader and supporter for her husband, Tom who is a candidate for the Permanent Diaconate in the Diocese of Kalamazoo. They are so grateful for the opportunity to grow together in this process whether it is studying for classes, deepening their prayer life or discovering new ways to serve together. Sheryl's day job is serving her community as the principal for St. Therese Catholic School in Wayland, Michigan. Since every time she thinks she gets life all figured out, she realizes just how far she has to go, St. Rita of Cascia is her go-to Saint for intercession and help. Home includes Brea, a Bernese Mountain dog and Carlyn, a very, very goofy Golden Retriever.