Three simple words that begin a short list of things Jesus tells us to not worry about  – food, drink, clothes. I do not worry about those things, I have more important things to worry about – meaningful work, health, my aging parents, my children and grandchildren. Have you ever thought that as you read this passage? Your "to-worry about" list may look different than mine but there it is nonetheless.
How though, do we allow our faith and trust in God's love and care for us to stand side by side with worry? I realize it's not easy to not worry. In my family, worry is how love is expressed. I choose not to worry. It is very conscious on my part. I make this choice as I try to do this in my life, "But seek first the Kingdom of God and his righteousness, and all these things will be given you besides" (Mt 6:33).  
I don't always succeed in not worrying, but as I focus on what God has done and continues to do in my life, I realize none of it happened as a result of worry. Rather, it happened when there was trust and surrender on my part. I'll give you an example: many years ago, my husband and I were buying a house. Everything was moving along and then he lost his job; no problem, I still had mine. And then, there went my job. By some miracle (GOD) it all moved forward and happened anyway. I have many stories of God's intervention in my life. You do too! Today, spend time looking at your life and writing down all the times problems worked out without worry, how things worked out by the grace of God who will provide for you.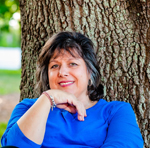 Deanna G. Bartalini, is a Catholic writer, speaker, educator and retreat leader. She is the founder of the LiveNotLukewarm.com community, a place to inform, engage and inspire your Catholic faith through interactive Bible studies, courses and book clubs. Her weekly podcast, NotLukewarmPodcast.com, gives you tips and tools to live out your faith. At DeannaBartalini.com  she writes about whatever is on her mind at the moment.
Feature Image Credit: By Author, taken at Bok Tower Gardens