As many blog posts and reflections begin, I have a confession to make. I probably have too much yarn. Now I know, the "probably" I put in should probably be removed, but I'm not ready to both admit I have too much yarn and do something about it. I am a fiber artist with no sales, no following, or customers. I just love to crochet, knit, weave, quilt, cross stitch, I even have a spinning wheel I'm rehabbing. I bounce from project to project, excited to try new techniques and styles. I watch YouTube for tutorials and ideas. Yarn, and all the things I can create with it, brings me much joy.
 There is a problem with this hobby of mine that I've noticed over the years. What I haven't shared yet is that I am a wife and mother of 6 children ages 10 and under. My days are full. Full of homeschooling, laundry, cooking, baking, sunscreen, skinned knees, and picnics. My hobby time is in the evenings. Most of the time, this is fine. I am ok with cutting off housework that didn't get done in order to have time for yarn and crafts as the sun goes down. But there are some days I find myself resentful of my little people, of their messes and constant hunger, of the churn of the laundry and crush of chores unfinished. I wish for days of silence with my yarn. I feel like projects which are supposed to bring me joy are wearing me down with the slowness of their progress. "Why can't they just leave me alone?" "Why can't I have some space to knit (or whatever I'm currently fascinated by)."
Each day that I allow myself to travel along this path the worse it gets. I am trying to store treasure in earthly things. In focusing on the crafting I am not doing, I am missing the opportunities God is giving me in the present moment. It's like trying to capture air escaping from a balloon or gathering water in a sieve. The more apparent treasure I pile in the unhappier I become instead of the opposite. I am believing that my happiness lies in my ability to create things when I am surrounded with the greatest works of creation I could participate in, my children. The things I make can bring me happiness, but that happiness should be in service of my relationships with my kids and how I am living out my vocation.
 Jesus says, "For where your treasure is, there also will your heart be." When I choose to be fully present to my family, even in its disorder and chaos, it is also full of love, beauty, joy, and God's will for our family. These are the treasures that will last a lifetime – beyond a lifetime. Doing God's will, loving those He has brought into our lives, these are just a taste of the treasures of heaven.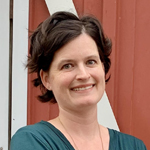 Kate Taliaferro is an Air Force wife and mother. She is blessed to be able to homeschool, bake bread and fold endless piles of laundry. When not planning a school day, writing a blog post or cooking pasta, Kate can be found curled up with a book or working with some kind of fiber craft. Kate blogs at DailyGraces.net.
Feature Image Credit: xxolaxx, https://pixabay.com/photos/crocheting-yarn-diy-knitting-1479217/