As I was reflecting on today's passage, I was reminded of my high school days in JROTC. While the program had its pros and cons, I learned some important lessons about leadership there. 
One lesson that the program emphasized was that good leaders do not ask the people they are in charge of to do things they themselves are unable or unwilling to do. Good leaders don't tell those they lead to walk an extra mile while they themselves drive. Good leaders walk that mile, too.
This seems to be one of the messages of today's readings as well. Paul reminds the people of Corinth that he is not a perfect man, and he is not asking them to do anything he is unable or unwilling to do. Jesus reminds us that we must be willing to forgive others if we are seeking forgiveness for ourselves after sinning against the Infinite Good Himself.
It makes sense that a good leader and a good Christian should have this trait in common. Both leaders and Christians are called to be shining examples, in word and deed, to those around them.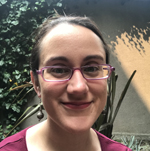 J.M. Pallas has had a lifelong love of Scriptures. When she is not busy with her vocation as a wife and mother to her "1 Samuel 1" son, or her vocation as a public health educator, you may find her at her parish women's bible study, affectionately known as "The Bible Chicks."
Feature Image Credit: 6277974, https://pixabay.com/photos/ducks-ducklings-walking-nature-2683033/