"If anyone comes to me, I want to lead them to Him." (St. Teresa Benedicta of the Cross)
In today's Gospel, we hear Jesus tell the disciples that the Kingdom of God can be compared to a mustard seed. When we hear the words "Kingdom of God", it's easy for us to think of Heaven and forget that those of us here on earth are part of the Kingdom of God. In this parable, Jesus includes us in the Kingdom of God and tells us how the Kingdom of God is meant to be home for everyone. 
For the past two years I have worked in a secular environment. It's the first time I've really worked outside the "Catholic bubble" in my life. I love my job, but because I'm not constantly steeped in a Catholic environment, I often feel like the Church is getting smaller rather than growing. I've struggled with how to bring others into the Catholic Church, especially when so much about the Church is misunderstood and many people have negative feelings toward the Church. In this parable about the mustard seed and the Kingdom of Heaven, Jesus says "..once it is sown, it springs up and becomes the largest of plants and puts forth large branches, so that the birds of the sky can dwell in its shade". I think I would have struggled less if I realized that I do not have the power to make the branches longer in order to shade more people. What I can do is either bring others to the shade that is already there or plant more mustard seeds. That is, I can either bring people to the Kingdom of God or I can plant the seed of faith that will eventually grow to, hopefully, include many more people in the Kingdom. Sowing Truth will yield a great harvest for the Kingdom of God.
As we go about this week, may we pray about the ways that we can bring others to the Kingdom of God and may we strive to be seeds that reap a bountiful harvest.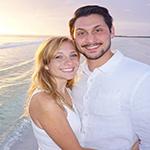 Dakota currently lives in Denver, CO and teaches English Language Development and Spanish to high schoolers. She is married to the love of her life, Ralph. In her spare time, she reads, goes to breweries, and watches baseball. Dakota's favorite saints are St. John Paul II (how could it not be?) and St. José Luis Sánchez del Río. She is passionate about her faith and considers herself blessed at any opportunity to share that faith with others. Check out more of her writing at https://dakotaleonard16.blogspot.com.
Feature Image Credit: https://images.unsplash.com/photo-1530790359200-e2cac35c770d?ixid=MnwxMjA3fDB8MHxzZWFyY2h8MXx8Y2hyaXN0aWFufGVufDB8fDB8fA%3D%3D&ixlib=rb-1.2.1&auto=format&fit=crop&w=600&q=60