In my Grandma and Grandpa B's home there were two large lighted framed paintings, one of Mary and the infant Jesus over the mantle and another of Jesus on the opposite side of the living room. I don't remember any specific conversations about them having such prominent places in their home, only that they were a cherished part of everyday life. 
These paintings came to mind as I was reading and praying with today's Scripture, especially the First Reading from Hosea 11:3-4, 8c-9 and the last line of the Gospel from John 19:37.

"I…took them in my arms; I drew them with human cords, with bands of love…yet though I stooped to feed my child, they did not know I was their healer. My heart is overwhelmed, my pity is stirred…For I am God and not a man, the Holy One present among you; I will not let the flames consume you."  And from the Gospel, "They will look upon Him whom they have pierced." 
To this day I honestly haven't grasped the importance and immense depth of grace and mercy that comes gushing forth for us all from the Sacred Heart of Jesus.
#478 in the Catechism of the Catholic Church states: "Jesus knew and loved us each and all during his life, his agony and his Passion, and gave himself up for each one of us: "The Son of God. . . loved me and gave himself for me." He has loved us all with a human heart. For this reason, the Sacred Heart of Jesus, pierced by our sins and for our salvation, "is quite rightly considered the chief sign and symbol of that. . . love with which the divine Redeemer continually loves the eternal Father and all human beings" without exception.

I am precious to Him at all times and in all circumstances of life. I have to remember that He is always present, not something to be seen (as a painting) but incorporated in my daily life with intent, openness and awed respect. The love of God is poured out into the world through the Son's Sacred Heart. I pray that my heart may be conformed to Jesus' so I may learn from Him to be meek and gentle of heart (as the Gospel acclamation proclaims) to love all in creation.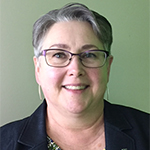 Beth Price is part of the customer care team at Diocesan. She is a Secular Franciscan (OFS) and a practicing spiritual director. Beth shares smiles, prayers, laughter, a listening ear and her heart with all of creation. Reach her here bprice@diocesan.com.
Feature Image Credit: gusmazariegosm, https://pixabay.com/photos/sacred-heart-jesus-catholic-3702635/