Promises! Elizabeth said to Mary, "Blessed are you for believing that what was promised to you would be fulfilled."
Those words could be repeated to Mary at the foot of the cross as her son was dying, "Blessed are you, O Mary, for believing that what was promised to you would even now be fulfilled."
They could be proclaimed at Pentecost, "Blessed are you who believed what was promised! It shall be fulfilled!"
They were sung at the moment of her Assumption into heaven, "Blessed, most blessed among all earth's women, are you, Mary, for you believed, you never wavered, even in suffering you were steadfast in the certainty that God would keep his promises to you."
Life is hard enough at times, and I think too often we forget the promises God has made to us, words of power that will keep any storm from overwhelming our fragile boats. 
Elizabeth and Mary were two women—one too old to bear a child and the other barely a child herself—who became the channel of God's mercy poured out through his Son in the redemption of the world: Jesus Christ, fulfillment of the Promise.
Both Elizabeth and Mary may have felt that this vocation was beyond their personal capacity…but they believed that what God had begun in them he would bring to completion in his own way, in his own time, through his grace. They knew there were no guarantees, there was no way to control or manipulate the future. What was left to them was praise and joyful wonder at what God was doing in and through them.
In the Responsorial Psalm we hear their quiet joy and firm and solid hope:
God indeed is my savior;
    I am confident and unafraid.
My strength and my courage is the LORD,
    and he has been my savior….
Shout with exultation, O city of Zion,
    for great in your midst 
    is the Holy One of Israel.
What is God doing in you? Like Elizabeth and Mary take some time today to notice, to sing, to rejoice, to believe, to trust. "God indeed is my Savior, I am confident and unafraid."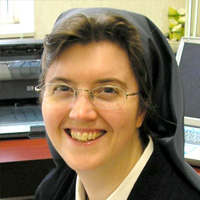 Kathryn James Hermes, FSP, is the author of the newly released title: Reclaim Regret: How God Heals Life's Disappointments, by Pauline Books and Media. An author and spiritual mentor, she offers spiritual accompaniment for the contemporary Christian's journey towards spiritual growth and inner healing. She is the director of My Sisters, where people can find spiritual accompaniment from the Daughters of St. Paul on their journey. Website: www.touchingthesunrise.com Public Facebook Group: https://www.facebook.com/groups/srkathrynhermes/ For monthly spiritual journaling guides, weekly podcasts and over 50 conferences and retreat programs join my Patreon community: https://www.patreon.com/srkathryn.
Feature Image Credit: Fra Angelico, public domain, via Wikimedia Commons