Today's readings are rich in imagery: ancestors, godly men, virtues, the Lord delighting in his people, bearing fruit, the withered fig tree, the temple area comotion, faith in God, prayer and forgiveness are found within these verses. 
My attention keeps coming back to the last line of the Gospel, "When you stand to pray, forgive anyone against whom you have a grievance, so that your heavenly Father may in turn forgive you your transgressions."  Mk 11:25  This is vital to living in right relationship with the Father. 
As a chosen one of God, created in His image, I have been called to honor (pray), witness (serve, act) and bear fruit to the truth of the Way for all of creation.

The ultimate love of the Father was the sacrifice of his Son, Jesus Christ. He showed us the Way of life through his example of love and prayer, service and sacrifice. Jesus forgives all because He loves all, even when someone's actions hurt or take advantage of others.

Being chosen means I have to acknowledge being human. I am accountable for the good and the bad choices and decisions in my life. I am to be as forgiving as Jesus and my Father are to all. The biggest challenge is to do that every moment of everyday; to show compassion and extend forgiveness to everyone through the Spirit and the love of God outpoured in the world.

God takes delight in His people. God takes delight in you. The following songs help me take the next step on the Way.

Chosen, Sidewalk Prophets
Help is on The Way, TobyMac
Truth be Told, Matthew West
Aware, Salvador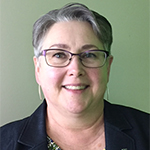 Beth Price is part of the customer care team at Diocesan. She is a Secular Franciscan (OFS) and a practicing spiritual director. Beth shares smiles, prayers, laughter, a listening ear and her heart with all of creation. Reach her here bprice@diocesan.com.
Feature Image Credit: MI PHAM, https://unsplash.com/photos/FtZL0r4DZYk