I really wanted to talk about Sirach today. He beseeches the Lord to pour out his grace and blessings upon all his servants. In a way, this is our daily prayer. As you know, his mercy is everlasting! 
In the Gospel of Mark today, we read, "taking them aside again"….. he tells them what, in detail, will happen to him." After all that, the two brothers, James and John beg Jesus to let them have a high spot in heaven. Jesus replied by asking them if they can go through what he will go through. They answered, "We can!" Yeah, right! It would take some time for the disciples to truly understand what he was really saying.  In our human nature, many desire to be held in high esteem, to be number one, to be admired, and to portray that perfect person. That is a pretty tall order! Having the best clothes, the newest car, a bigger house, the finest watches… this is not what it's all cracked up to be!
The greatest man alive, Jesus Christ, did not model those things of pride. No, he came as a servant, a suffering servant. Who are those today that model that same behavior? The first ones that come to mind are grandmothers. Most grandmothers are in constant motion helping their daughters and daughters in-law with their children and grandchildren with babysitting and house chores, and during the covid Pandemic, with homeschooling! Some young mothers and fathers were blindsided when all of a sudden their home became a school. Big shock!
I know one grandmother that drove 70 miles round trip two times a week to help their struggling daughters. Sometimes the modeling of Jesus Christ is as close as our own families or extended families. As we hear the voices of James and John today, do we hear ourselves? Probably, but still today the Lord speaks to us the same way. He loves us so much that he pulls us to himself. And calls us to servanthood. If you haven't read Matthew 25 for a while, read it again. And find yourself in it!
Serving with joy!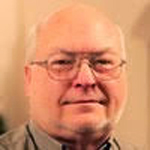 Deacon Dan Schneider is a retired general manager of industrial distributors. He and his wife Vicki recently celebrated their 50th wedding anniversary. They are the parents of eight children and twenty-nine grandchildren. He has a degree in Family Life Education from Spring Arbor University. He was ordained a Permanent Deacon in 2002.  He has a passion for working with engaged and married couples and his main ministry has been preparing couples for marriage.
Featured Image Credit: Sergiu Valenas, https://unsplash.com/photos/7VPdLfzLwg8