"You, Father, are in me and I in you… I in them and you in me… that the love with which you loved me may be in them and I in them…" Today's Gospel can sound like a logic puzzle and have our minds glazing over at first; it really needs to be read slowly, and several times. Every sentence – every clause – is rich and profound, giving us insight into Jesus' relationship with his Father, his love for us and for the whole Church, our relationship with one another, and our relationship within the Trinity.
Jesus prayed this prayer out loud for his disciples, so they could glimpse these relationships and enter into them. And they are recorded for us, so that we can do the same.
Jesus' repeated desire is for ONENESS – deep, true, spiritual oneness based on mutual love. He prays that we will be one just as the Father and the Son are one! In order for that to happen, we need to be united to the Son who is IN the Father, and the Father will dwell in us as He is IN the Son. This is the perfection to which we are all called: "I have given them the glory you gave me, so that they may be one, as we are one, I in them and you in me, that they may be brought to perfection as ONE…"
It is Jesus who draws us together, who wants us to enjoy the very love that he himself enjoys in the Father. Jesus expresses this wish explicitly: "I wish that WHERE I AM THEY ALSO MAY BE WITH ME…" Jesus' deepest desire is to gather us all to himself, so that we can, in him, enter into the very Heart of the Father, to share his love, joy, and glory. And the Father wants this as well, as we – you, me, everyone – are the Father's GIFT to the Son. The Son wants to respond by winning us back from sin and self, and then giving us all back to the Father.
Why? LOVE. Jesus' entire life and self-offering is motivated by love. He does the Father's will because he loves the Father. He offers himself for us because he loves us. He pours his grace and mercy over us because he wants us to be with him to share the "joy beyond words" of the life of the Trinity. Forever. He tells the Father that he does it all so "that the love with which you loved me may be in them and I in them."
This is the radiance for which we are created! This is salvation! This is heaven! This is the whole purpose of existence! We are made IN HIM and FOR HIM (Col 1:16-17); we come from Love, we are returning to Love, and Love is rescuing us every step of the way. Today, let's seek ways to walk in this glorious Truth and return love for Love.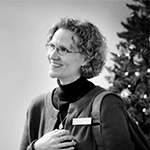 Kathryn Mulderink, MA, is married to Robert, Station Manager for Holy Family Radio. Together they have seven children (including newly ordained Father Rob and seminarian Luke ;-), and two grandchildren. She is a Secular Discalced Carmelite and has published five books and many articles. Over the last 25 years, she has worked as a teacher, headmistress, catechist, Pastoral Associate, and DRE. Currently, she serves the Church as a writer and voice talent for Catholic Radio, by publishing and speaking, and by collaborating with the diocesan Office of Catechesis, various parishes, and other ministries to lead others to encounter Christ and engage their faith. Her website is https://www.kathryntherese.com/.
Feature Image Credit: II ragazzo, https://www.cathopic.com/photo/14588-un-solo-dios