What is truth? Or maybe the better question is Who is Truth? We know who Truth is – Jesus. Then why is it often difficult to get to the truth of an issue, concern or problem?
One reason might be where we are looking for truth. Since Easter, we have been reading from the Book of the Acts of the Apostles at Mass. And if you have ever studied that book, you may know it is often called the Book of the Holy Spirit. Why? Because the Spirit moves in that book and moved in the life of the apostles and all the believers of that early Christian community. They knew the truth and when they needed to discern the next steps they prayed, together, and asked for guidance. And the Holy Spirit, the Advocate, showed up. 
When we look for truth, where do we go first? Social Media, TV news, your local newspaper or radio show? And how do you decide who is giving you accurate information? It might be less difficult to find the truth if we first prayed and asked for help.
I think about this often, because I find myself taking the next step, quickly glancing heavenward and saying, "God, is this okay, God?" instead of taking the time to sit with Him first. We do not belong to the world, so we cannot start with the world. We are consecrated in truth; Jesus tells us this. What does it mean to be consecrated? To be set apart, blessed, made holy, dedicated to God, to have a divine purpose – choose your favorite, but know that we are not ordinary. 
We have access to the truth. But do we access it? All around me I see division. Why? Because we have stopped looking for the truth Christ gives us and don't ask for the guidance of the Holy Spirit. Of course, many of us reading this do so because we do want the truth. We want to know Christ more fully and deeply. And how can that happen?
No need to sit down or hold onto your hats for this information; you will not be shocked. How can we know the Truth more fully and deeply? Pray. Frequent the sacraments. Read Scripture. Remember that we are consecrated in truth, by Jesus. I pray that we all come to know and live this out every day.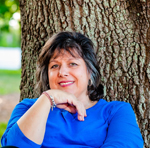 Deanna G. Bartalini, MEd, MPS, is a Catholic educator, writer, speaker, and retreat leader. She has served in ministry for over 40 years as a catechist, religious education director, youth minister, liturgical coordinator, stewardship director and Unbound prayer minister. For all of Deanna's current work go to DeannaBartalini.com. 
Feature Image Credit: Michael Carruth, https://unsplash.com/photos/m_tnGfoHeko