"Amen, amen, I say to you, whatever you ask the Father in my name he will give you."
This passage was far from my mind as I watched my six-year-old son get up on all fours in the hospital bed, retch, and then tell me his tummy "really, really, really, really hurt".  Acute appendicitis had my little guy suffering and mommy suffering right along with him. Post-op was almost worse as all joy and silliness was gone from his normally playful demeanor and he didn't even dare to move out of fear it would hurt. He didn't want to eat, drink or talk.
I was about to have a breakdown, the tears finally falling a few days into my new normal. So many were reaching out by text and social media, expressing their concern, offering their help and most of all, praying for him. Suddenly I realized that my own prayers were sorely lacking.
"Until now you have not asked anything in my name; ask and you will receive, so that your joy may be complete." I asked for a priest to come anoint him, prayed my rosary and a few simple supplications. It was all my worried and weary soul could manage.
A few hours later, he seems to perk up. I finally got my first smile out of him, and later on, a giggle. The next day he was eating much better, walking more and played most of the day.
"For the Father himself loves you…"
His appendix was ruptured and infected. I could have lost him. Yet the Father showed his love for me and His love for my son by allowing him to recover, however slowly it may be.
I could question, just as his grandma did, why one so young has to suffer so much. I could cry and complain, wag my head at God and lose faith in Him. Perhaps no one would even blame me for doing so, but how could I distance myself from the very One who sustains me?
Today's Psalm sums it up precisely: "God is king of all the earth." Period. He is king of this hospital room, king of my son, king of his health, king of my heart. His will dictates what will and will not happen. I am not in control.
May this day bring you the opportunity to ask for what you need, receive it gratefully, realize how much the Father loves you and experience joy as His gift to you. May He be king of your life and your heart.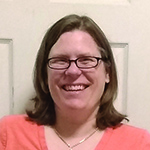 Tami Urcia grew up in Western Michigan, a middle child in a large Catholic family. She spent early young adulthood as a missionary in Mexico, studying theology and philosophy, then worked and traveled extensively before finishing her Bachelor's Degree in Western Kentucky. She loves tackling home improvement projects, finding fun ways to keep her four boys occupied, quiet conversation with the hubby and finding unique ways to love. She works at her parish, is a guest blogger on CatholicMom.com and BlessedIsShe.net, runs her own blog at https://togetherandalways.wordpress.com and has been doing Spanish translations on the side for almost 20 years.
Feature Image Credit: Markus Spiske, https://unsplash.com/photos/-NlLXMpE-AY