Today we celebrate the Feast of Sts. Philip and James, two of the apostles. Today's Gospel is one of those readings that makes me feel better as a human person because it shows the true humanity of the apostles. Here they are walking, living, and learning, from Jesus and still they don't understand a word he is saying. 
Philip tells Jesus that if they just see the Father that would be enough for them and Jesus promptly responds with, "I am in the Father and the Father is in me." Now, let's give some credit to Philip, what Jesus says here is really confusing to a normal person. If someone were to walk up to you on the street and say my father and I are distinct persons but one God, you would probably be confused as well. So we can give Philip a break for being confused because these truths can only really be understood through revelation. But what I want to focus on is the faith of Philip. 
Jesus is speaking about his father in heaven, and Philip immediately just wants to see. He wants to know God the Father. He wants to know him personally. I think sometimes we make the mistake of believing we have to know everything there is to know about the Catholic Church or about God before we can truly enter into a relationship, but today's Gospel would say otherwise. Philip didn't know much at this point about God the Father or even about Jesus. But he wanted to know. That faith was enough. 
As we move on in the Gospel we see the result of this faith. When we have faith in Jesus and rely on God the Father we can do the works of Jesus. Philip didn't understand this yet, but that's exactly what happened. The apostles relied on God the father, listened to Jesus, and allowed the Holy Spirit into their lives, and then their works were effective, they were miraculous, they were the works of the Father. 
We have the same call today. Do we have that kind of faith? Do we trust that God will allow us to do these works as well and bring many back to the Lord? This isn't a work that we do, but it comes from God the Father through Jesus Christ. Let's pray for the grace to live this faith boldly and proclaim it loudly as Philip eventually did. From all of us here at Rodzinka Ministry, God bless!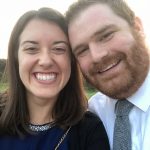 Tommy Shultz is the Founder/Director of Rodzinka Ministry and the Director of Faith Formation for the North Allegan Catholic Collaborative. In these roles, he is committed to bringing all those he meets into a deeper relationship with Christ. Tommy has a heart and flair for inspiring people to live their faith every day. He has worked in various youth ministry, adult ministry, and diocesan roles. He has been a featured speaker at retreats and events across the country. With a degree in Theology from Franciscan University, Tommy hopes to use his knowledge to help all people understand the beauty of The Faith. Contact Tommy at tommy@rodzinkaministry.com or check out his website at rodzinkaministry.com.
Feature Image Credit: Matías Medina, https://www.cathopic.com/photo/22086-apostoles