A clear theme seems to run through all of today's readings: remaining with God – seeking Him, honoring Him, and striving to do His will – and, through Him, you will be able to do unimaginable things.
A person can go from being an enemy of the Church to being one of its most prolific evangelists, as Saul (turned Paul) did.
We can receive from God whatever we ask that is in accordance with His will.
We can grow from the struggles in life that prune us, and bear an abundance of spiritual fruit, which we never could have done on our own.
We will be able to say, as Paul did in Philippians 4: "I can do all things in Him who strengthens me." In turn, people will say of us, as the onlookers said of the apostles at Pentecost, "How is it possible they are doing this?"
And the Father will be glorified.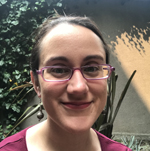 J.M. Pallas has had a lifelong love of Scriptures. When she is not busy with her vocation as a wife and mother to her "1 Samuel 1" son, or her vocation as a public health educator, you may find her at her parish women's bible study, affectionately known as "The Bible Chicks."
Feature Image Credit: jh146, https://pixabay.com/photos/wine-grapes-vine-autumn-palatinate-4540475/