This day has always been one of the most special dates on my calendar. As a young adult, I made an effort to foster a close relationship with Mary and Joseph, and today we get to celebrate them both (since it's the first day of the month of May)! When I finally found my husband, we decided to name our first son after this incredible saint. We couldn't believe that one of my numerous siblings hadn't named one of my even more numerous nephews after him. What a blessing!
Today we focus on a specific aspect of Joseph's holiness, his spirit of hard work. We know that he was a carpenter and worked with his hands to provide for Jesus and Mary. I find this virtue to be particularly difficult to instill in our Joseph. As parents, we want to give our children everything, to provide for their every need and at times it's hard not to spoil them. The chore charts hang on the refrigerator unenforced, the dishes schedule remains an idea in my head, and it's like pulling teeth trying to get him and his brothers to pick up toys so we can vacuum.
Sure, we've had plenty of teaching moments where we talk until we're red in the face about the importance of helping out as a family and how when he grows up he won't have money to buy food unless he works… but what will help him and his brothers to truly understand?
I admit mommy and daddy need to be a tad more consistent, but deeper than that, we can point him to the example of good St. Joseph. The optional reading for this feast day states "Over all these things put on love…And let the peace of Christ control your hearts…And be thankful. And whatever you do, in word or in deed, do everything in the name of the Lord Jesus…for the Lord and not for men…"
I can see St. Joseph living out these words each and every day, working tirelessly out of love. He worked calmly, peacefully, skillfully using his tools to shape the wood, most likely praying as he went along. And most certainly he was thankful. Thankful for God's guidance and provision, for allowing the work of his hands to provide for the needs of his most holy family. And we already know he did not live before men, because if he did, he would have never married Mary in the first place. His vocation was to serve the Lord.
Dear St. Joseph, thank you for your example of hard work and fidelity to God's will. Help us to imitate your loving, peaceful, grateful and pure way of living and to teach our children to do the same. May we pray with hearts full of trust "Lord, give success to the work of our hands" (Psalm Response) that we may glorify you. Amen.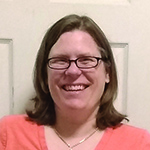 Tami Urcia grew up in Western Michigan, a middle child in a large Catholic family. She spent early young adulthood as a missionary in Mexico, studying theology and philosophy, then worked and traveled extensively before finishing her Bachelor's Degree in Western Kentucky. She loves tackling home improvement projects, finding fun ways to keep her four boys occupied, quiet conversation with the hubby and finding unique ways to love. She works at her parish, is a guest blogger on CatholicMom.com and BlessedIsShe.net, runs her own blog at https://togetherandalways.wordpress.com and has been doing Spanish translations on the side for almost 20 years.
Feature Image Credit: Michael O'Sullivan, https://unsplash.com/photos/xA36Wy213uM