We all love good stories with satisfying endings. But it seems Jesus is the Master at building tension and leaving us to find the conclusion through prayer and reflection – sometimes decades of theological reflection!  Jesus is the fullness of revelation, but sometimes it seems that he holds back more than he reveals. He gives solid clues, but does not lay things out plainly, and the apostles are often left confused and probably discussing between themselves what he meant. So are we.
Today's Easter reading actually comes from the Last Supper, after Jesus has washed his disciples' feet and they are beginning to wonder what is going on. He speaks of betrayal, Judas has left early without any explanation, and Jesus begins to talk about going somewhere they cannot come right away. Something is stirring, and there is tension. Jesus knows this, and he cannot soften the blow of what is about to happen.
So Jesus tells them not to be troubled, to lean into their faith. He reminds them of their eternal future in the Father's house. And then he tells the disciples that they actually already know the way to where he is going. Thomas objects that they don't even understand what he's talking about, they don't even know where he is going. You can sense a kind of confused exasperation in Thomas as he insists they have no idea of the way.
Jesus' answer (enlightened by retrospect and the Holy Spirit in the Church!) could be paraphrased something like this:
"You DO know the way, because you know ME. I AM THE WAY, and there is no other way.
You also know all you need to know because you know ME. I AM ALL TRUTH.
You can also walk in hope, because you know ME. I AM LIFE – abundant life, eternal life! 
So, FOLLOW ME by imitating what I have done and what I am about to do.
Walk confidently in the truth that I AM and that knowing me reveals the meaning of all creation and the deep desires of every human heart, including your own.
Hope in me, confident that the fullness of life will be yours, now and forever.
Human hope finds satisfaction in happy endings, but the Father loves beginnings without endings!
We are all journeying to an eternity in the Heart of the Father, and I am going before you.
The only way for you to get to My Father is through ME.
Because I AM THE WAY AND THE TRUTH AND THE LIFE."
 Do our lives reflect this? Do our lives demonstrate that Jesus is our all, that we need him, that he gives us all, that our confidence is in HIM?
 Is Jesus our way, our truth, and our very life?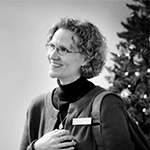 Kathryn Mulderink, MA, is married to Robert, Station Manager for Holy Family Radio. Together they have seven children (including newly ordained Father Rob and seminarian Luke ;-), and two grandchildren. She is a Secular Discalced Carmelite and has published five books and many articles. Over the last 25 years, she has worked as a teacher, headmistress, catechist, Pastoral Associate, and DRE. Currently, she serves the Church as a writer and voice talent for Catholic Radio, by publishing and speaking, and by collaborating with the diocesan Office of Catechesis, various parishes, and other ministries to lead others to encounter Christ and engage their faith. Her website is https://www.kathryntherese.com/.
Feature Image Credit: Matt Howard, https://unsplash.com/photos/A4iL43vunlY