In today's Gospel, Jesus' talk of slaves and masters can seem a bit controversial- especially since He seems to suggest that slaves are lesser than their masters, rather than equal. In today's world, we want to hear Jesus tell us that slaves are equal in dignity to their masters, or even better, that slavery is a reprehensible evil that must be abolished immediately. That would be the social justice Jesus that we all know and love. 
But Jesus is not talking about human slaves and human masters. He is talking about us and God. We are the slaves, and God is our Master. We are lesser than God. We will never be greater than our Master. We are called slaves because we are meant to serve. That is what we were made for- we were made to serve.
"Serve" is a beautiful word in the Hebrew language. It can also mean "work" and "worship." Our work is our worship. Our service is our worship. We were made to worship God. We were made to love Him. We are slaves of love. Our entire being longs to worship God, to love Him with our bodies and souls. We are made to serve our Master, a Master who loves us enough to allow His only begotten Son to die for us. 
Jesus, the Son of God, came "not to be served, but to serve, and to give His life as a ransom for many" (Mark 10:45). God became man, became a slave to show man what it means to serve. Jesus shows us all what it means to be a slave, what it means to serve. Jesus Christ, despite being God, got down on his hands and knees and washed the feet of his apostles. That's what it means to serve. It means giving our lives for Love, whether that means living our life for Him or dying for Him. Our life and our death have the ability to be acts of worship. 
But there is more. Jesus calls us friends, not slaves. The Master became a slave so that the slaves might become like the Master. God became man so that man might become like God. Jesus Christ became human so that we might be friends. And not even just friends, but brothers, and therefore heirs of heaven like Christ Himself. That is Love in its truest, deepest, form. God came down to earth to show us what it would take to get to heaven. And now we just need to follow Him. Serve like Him. Worship like Him. Love like Him. So maybe being slaves for Christ isn't so bad after all.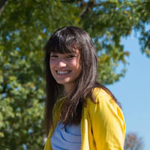 Shannon Whitmore currently lives in northwestern Virginia with her husband, Andrew, and their two children, John and Felicity. When she is not caring for her children, Shannon enjoys writing for her blog, Love in the Little Things, reading fiction, and freelance writing. She has experience serving in the areas of youth ministry, religious education, sacramental preparation, and marriage enrichment.
Featured Image Credit: dodo71, https://pixabay.com/photos/stained-glass-window-church-wash-4784679/