How ironic, I am writing this reflection on the Bread of Life—the Bread that comes down from heaven, the Living Bread, and Flesh for the World—in Adoration with my belly rumbling from hunger. Although all I have to look forward to satisfying that hunger with is a gluten, dairy-free meal replacement bar, I sit eagerly awaiting my first opportunity to eat it. Even a little excited at the coming relief, knowing I will not have to suffer from these hunger pangs much longer. Anxious for this hunger to be taken away, clearly anything would suit me if I'm excited for my less than tasty meal replacement bar. I might even eat liver if that were my only option.
In John 6, also referred to as the Bread of Life Discourse, the Lord begins to reveal to us the beauty and mystery of His giving of Himself in the Eucharist. The words that come to mind as I meditate on John 6:44-51, may be brought on by my hunger, are those from the Lord's prayer, "give to us our daily bread." Acutely aware of God's goodness, that He who created me would not only take care of my spiritual needs but my temporal as well. Daily, no day left, in which He does not think or desire to provide for me. And bread makes perfect sense, as it is a food we, even us gluten intolerant people like myself, find a way to incorporate into our diets. As the Catholic Church's Catechism (2830) states, "The Father who gives us life cannot but give us the nourishment life requires—all appropriate goods and blessings, both material and spiritual."
It is incredible how impatient I can be when hunger overtakes me, unwilling to postpone satisfaction until something more substantive comes along. Willing to settle for imitation food instead of holding out for the real thing, even if that meant I'd have to deal with my grumbly tummy and suffer a little longer. I do this in my spiritual life as well, when I become hungry for something to quelch my discomfort, willing to accept false gods of food, entertainment, or drink. Instead of trusting in the fulfillment of the One who truly satisfies. The scraps instead of the feast. The Bread of Life gives me abundant life and the hope of eternal life, though I may need to suffer and, yes, even hunger. 
Here I sit before the True Food, in the presence of the Body, Blood, Soul, and Divinity of my Lord, Jesus Christ, yet I am distracted by hunger. How many things in the world around me distract my attention from Jesus, with empty promises to pacify my discontent. However, for most, the consolation will have faded before the consumption has even been completed. My challenge is to remain eternity-minded, to look up and out for nourishment, knowing He who created me will never abandon nor forsake me and will always provide everything, material and spiritual, that I need.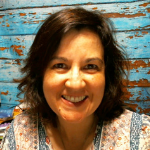 Allison Gingras works for WINE: Women In the New Evangelization as National WINE Steward of the Virtual Vineyard. She is a Social Media Consultant for the Diocese of Fall River and CatholicMom.com. She is a writer, speaker, and podcaster, who founded ReconciledToYou.com and developed the Stay Connected Journals for Catholic Women (OSV).   
Feature Image Credit: 11165576, https://pixabay.com/photos/bread-love-heart-bake-baker-4073393/