A while back, I went through a faith reversion and I was participating in a small faith sharing group. One morning I told the group I had felt empty when I went to a non-Catholic church for a wedding. I couldn't identify why. The people were full of genuine love for Jesus and there was beautiful music, but I walked away feeling a strong desire to rush to my home parish. I realized that at any Catholic church I had ever been to I felt a sense of something. I couldn't find the word but my fellow group members knew what I meant.  
One of them, clearly wiser than me, said in a gentle voice, "It's Jesus.  He is there in the tabernacle." Even though I am a lifelong practicing Catholic who believes in Jesus Christ's Real Presence, it took that "ohhh" moment to make me realize I also know it's his Real Presence. I felt it in my head and my heart and recognized it for the gift it is.
In today's Gospel, Jesus clearly tells us that he is the bread of life and if we come to him and believe in him we will never hunger or thirst. This passage is the beginning of the Bread of Life discourse in John where Jesus tells his followers that they need to eat his flesh and drink his blood to have eternal life. He tees up the institution of the Eucharist that we read about at the Last Supper on Holy Thursday. He doesn't back down from this teaching. The disciples comment that this is a hard teaching and they aren't wrong. It is a hard teaching. When some followers left, Jesus didn't run after them and clarify. He didn't recant and say he meant we need to eat a symbol of his body. He let them leave. 
A survey by Pew Research found that 63% of Catholics do not believe that during Mass the bread and wine become the body and blood of Christ (transubstantiation). That's how hard this teaching is. Yet that leaves 37% of Catholics who do believe in it. I feel blessed to confess this truth. I feel blessed to be able to go to Mass and receive Jesus in this concrete way. This reality is so powerful that at Holy Thursday Mass, our pastor teared up during the Consecration and I suspect I wasn't the only one who, when hearing his voice crack and witnessing him wiping his eyes, felt moved to my core with gratitude. My own tears came a few minutes later when one of our seminarians gave Holy Communion to his sister. I was so overcome with happiness to be back in church for the Triduum, to be able to receive this gift of himself that Jesus gave us.
Jesus is the bread of life. It's a hard teaching but it's an important one. Jesus didn't mince words with this one. He said he is the bread of life and we need to eat his body and drink his blood. We are blessed to live in a place where we can do that freely.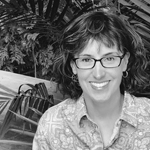 Merridith Frediani's perfect day includes prayer, writing, unrushed morning coffee, reading, tending to dahlias, and playing Sheepshead with her husband and three kids.  She loves finding God in the silly and ordinary.  She writes for Ascension Press, Catholic Mom, and her local Catholic Herald in Milwaukee. Her first book Draw Close to Jesus: A Woman's Guide to Eucharistic Adoration is expected to be released summer 2021. You can reach her at merridith.frediani@gmail.com
Feature Image Credit: idenir, https://pixabay.com/photos/eucharist-monstrance-hostia-2435932/