In today's First Reading in Acts, it is noted that following Jesus' resurrection, the Church was one. This was what God had always intended. One heart, one mind, one body, one soul.
The common theme reflected in Psalm 118 is  "His mercy endures forever." God's love is everlasting. In the Divine Mercy Chaplet we pray, "For the sake of His sorrowful passion, have mercy on us and on the whole world".
Jesus came for sinners. To have compassion on us and forgive us. To save souls. Our strength and our courage is the LORD, our Savior! Give thanks!
May the Holy Spirit fill each of us with the joy of the Easter message.
Let us live boldly, as the Apostles did following Christ's resurrection, recognizing that we are indeed saved.
Let us be steadfast to the Lord, keeping his Commandments through the trials and tribulations we face.
Let us be in peace with one another, just as Jesus reconciled with us, appearing to the Apostles, "Peace be with you."
Let us pray that our love increases for Christ as well as each other every day. 
As reflected through the message of the Divine Mercy, Jesus, I trust in You.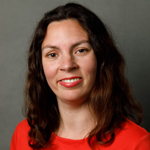 Dr. Alexis Dallara-Marsh is a board-certified neurologist who practices in Bergen County, NJ. She is a wife to her best friend, Akeem, and a mother of two little ones on Earth and two others in heaven above.
Feature Image Credit: Juan Diego Camarillo, https://www.cathopic.com/photo/22408-divina-misericordia