He is risen! Alleluia! The most life-changing thing has happened in the lives of our dear apostles and where do we find them today? Fishing. Unsuccessfully at that. 
Skipping down to the end of the Gospel reading, John reveals that this encounter with Jesus was the third time since the Resurrection. Twice before this day, Peter and the others had seen and spoken with the risen Lord. And still, by their actions, we see their doubt, their unbelief. 
When we want to feel comfortable, when we are unsure of change, what is the human response? We find something familiar, a past habit or location, something we are sure of. For Peter and the other apostles with him, that place of familiarity is in a boat on the sea. John is showing us that they are returning to their old way, their previous habits and professions which had sustained them before following Jesus. But look, where they were previously proficient, they find themselves lacking. They caught no fish! 
Something has changed, they are fundamentally different men. It's not that they have forgotten how to fish or read the waves and winds. John is exploring how deeply encounters with Jesus change who we are. Peter can no longer provide for himself. He and the others can't "go it alone" as so often we try to do even today. Only when Jesus reveals Himself and provides a way forward do they make their catch. And of course, in God's goodness and generosity, it is a catch more sizable than they could have ever achieved.  
Today we find ourselves at the start of the Easter Season and in the middle of the Octave of Easter (the initial 8 days after Easter Sunday). The newness of the Resurrection is still tingling in our consciousness and daily life – or is it? Have we already become like Peter and the others, unsure, perhaps unbelieving, and looking for our old comforts and habits to shield us from the radicalness of God's saving work? Have we found ourselves drawn back into our comfortable boats, trying to reconstruct a known life from before?
In his reflection on this passage a few years ago, Pope Francis said: "Let us all remember this well: The Gospel of Jesus cannot be proclaimed without the concrete witness of life. Whoever hears and sees us must be able to read in our actions what he hears on our lips, and give glory to God." Take some time today to consider how the reality of the Resurrection is shaping you into a disciple of the Lord. How are you different this Easter season? How have you grown? Can you, like Peter, jump out of your boat and go to the side of Jesus with enthusiasm and joy?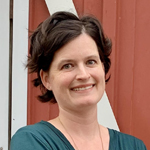 Kate Taliaferro is an Air Force wife and mother. She is blessed to be able to homeschool, bake bread and fold endless piles of laundry. When not planning a school day, writing a blog post or cooking pasta, Kate can be found curled up with a book or working with some kind of fiber craft. Kate blogs at DailyGraces.net.
Feature Image Credit: Quangpraha, https://pixabay.com/photos/lonely-feeling-wait-tranquility-3062043/