I was talking with someone the other day, laughing about how often Jesus says, "Peace be with you," and, "Do not be afraid," in the Gospels because it's not just his way of greeting people, it's that Jesus would do crazy things (like randomly appear) and frighten people! 
Then, in today's Gospel, we are reminded just how human the disciples were. We might read over the gospels and think, "Yup, Jesus turned water into wine. Yup, walking on water, he does that," but we fail to truly consider how utterly amazing and confusing it would have been to witness all of these miracles. If we saw anyone do these kinds of things today, we would totally lose our minds, record it on our phones, share it with everyone we know, etc. Why do we expect anything less human from the first Christians?
So I LOVE today's Gospel because it literally says that they, "thought they were seeing a ghost," because I would have acted the same way (Luke 24:37). Just imagine for a moment that you're telling your best friends about walking with Jesus, then recognizing him while breaking bread and then he just SHOWS UP. "Peace be with you. It's just me, Jesus… Alive." No big deal, right? Jesus told them he would be back, right? 
And yet they were still surprised!
They were still shocked and terrified. 
Still, they had the faith and strength to witness not just one miracle and run away, but to become witnesses of Jesus, the radical love he showed even the least of strangers, and to share everything they had learned with the world. They were so on fire with the Spirit, from seeing all this crazy stuff happen through Jesus, that they felt they HAD to share it with others. 
So today, as we continue through the Easter season, I ask if you have been a witness to the miracles that have happened in your life? Now that Jesus reminds you not to be afraid, are you sharing his love and miracles?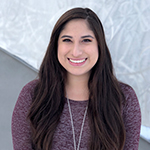 Veronica Alvarado is a born and raised Texan currently living in Michigan. Since graduating from Texas A&M University, Veronica has published various articles in the Catholic Diocese of Austin's official newspaper, the Catholic Spirit, and other local publications. She now works as the Content Specialist in Diocesan's Web Department.
Feature Image Credit: Ben White, https://unsplash.com/photos/qDY9ahp0Mto