I am writing this reflection on Holy Saturday, in the midst of Holy Week. What is supposed to be one of the holiest weeks of the year becomes the busiest for anyone working for the Church. In my role I have many sacraments coming up, including Confirmation and First Communion. We of course, have all the Holy Week Liturgies as well as extra times of prayer and confession. It's a busy time, which is good because a busy church is a living church, but that doesn't make the stacks of paperwork any easier.
This is why I love the First Reading for today. Let's look at just the last line which says, "Those who accepted his message were baptized, and about three thousand persons were added that day." I love how that is just casually mentioned as if it was normal to baptize that many people. Think about that logistically. The priest must have been out there for hours just baptizing one after the other. But what do I like most about it? No paperwork. Haha. But really what is the most beautiful thing about it? That it is the preaching of the simple Gospel and it was so profound that three thousand people decided to enter The Church.
Now I don't know about you, but our Easter Vigil at my parish has never had this many people lining up. Then I get to thinking what is the difference between now and then? Why don't we have such large numbers of people asking to be made children of God? I think there are many reasons one can think of. The process is longer, the world is more secular, there aren't enough priests, people aren't catechized. You could find many different reasons, but I think number one is that we have stopped believing in the power of the resurrection.
Here we are in the midst of the Easter season and I think that is the question I will ponder for the next few weeks. Do I believe in the power of the resurrection? Do I believe that if God wants it, then three thousand will line up at our doors? Do I believe that the same Holy Spirit that made those conversions happen is still active today? Or do I think that somehow God only had so much power in the tank and it has been running on fumes?
Now I hope anyone reading this believes God does have the power, but then the next question is, do we let that power work in our lives? Sometimes it can be scary to let God have full control and give in completely to the power of the Holy Spirit. It can be unexpected, new, foreign, or just uncomfortable. But what would happen if all of us submitted to the power of the Holy Spirit just like they did in this First Reading? What would the Church look like? That's a question I ask daily. How can I submit even more to the Holy Spirit and God working in my life. What is he asking me to do? Where is he asking me to go? From all of us here at Rodzinka Ministry, God bless!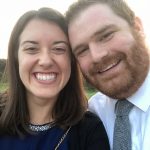 Tommy Shultz is the Founder/Director of Rodzinka Ministry and the Director of Faith Formation for the North Allegan Catholic Collaborative. In these roles, he is committed to bringing all those he meets into a deeper relationship with Christ. Tommy has a heart and flair for inspiring people to live their faith every day. He has worked in various youth ministry, adult ministry, and diocesan roles. He has been a featured speaker at retreats and events across the country. With a degree in Theology from Franciscan University, Tommy hopes to use his knowledge to help all people understand the beauty of The Faith. Contact Tommy at tommy@rodzinkaministry.com or check out his website at rodzinkaministry.com.
Feature Image Credit: II ragazzo, https://www.cathopic.com/photo/19650-bienvenido-familia-catolica