As a child, this day seemed to drag on and on. Sure, we tried to fill the time by boiling eggs and coloring them, helping Mom with final Easter preparations or going to the store to get the ham, but nothing seemed to fill the void. The anticipation of Easter Sunday was enough to pull me through, but I remember thinking that this was the only day that God was dead. He was gone. He wasn't there. He was absent from the tabernacles throughout the world and I just felt so empty.
This is it. In just a few hours, many of us will be participating in the Easter Vigil Mass, the high point of the entire liturgical year. We will walk through history, from Creation to Salvation. Candidates and Catechumens will be brought into full Communion with the Church. We will sing a joyful Alleluia for the first time in over 40 days.
But what can we do with ourselves in the meantime? How do we fill this day of seemingly endless waiting? Perhaps silence and simplicity are the best answer. Today is not quite as sad and solemn as yesterday, since we know the end of the story, but it is still a day of preparation. Our Lent is coming to a close, but we have these last few hours to focus our minds and our hearts on the incredible mystery that we are about to experience.
Perhaps the very first line of the creation story sums it up best for us: "Then God said, 'Let there be light,' and there was light." Isn't that what the Resurrection is all about? God coming into our darkness, our sinfulness, our fallen nature, and filling it with light?
Yes, it can be just as simple as that. Christ is our light. And on that Easter morn he broke the natural rule of every life ending in death and showed us that we could live again. Darkness does not have to prevail, will not prevail, because the light of the Resurrection is more powerful, and it overcomes.
I cannot fathom how bright that Easter morning must have been. Surely it was intense! Yet instead of blinding, it was revealing. And although it may take a while for the eyes of our souls to adjust to the light, we eventually come to grips with its reality. Death is not the end. Christ has died so that we might live. What an incredible truth!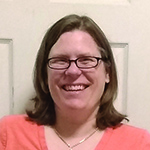 Tami Urcia grew up in Western Michigan, a middle child in a large Catholic family. She spent early young adulthood as a missionary in Mexico, studying theology and philosophy, then worked and traveled extensively before finishing her Bachelor's Degree in Western Kentucky. She loves tackling home improvement projects, finding fun ways to keep her four boys occupied, quiet conversation with the hubby and finding unique ways to love. She works at her parish, is a guest blogger on CatholicMom.com and BlessedIsShe.net, runs her own blog at https://togetherandalways.wordpress.com and has been doing Spanish translations on the side for almost 20 years.
Feature Image Credit: Sixteen Miles Out, https://unsplash.com/photos/PUjAEwV9PeQ