What is the glory of God? How do we glorify Him? How is God glorified in us?
Here at the beginning of Holy Week, we read in the Gospel of John that as soon as Judas left the Last Supper, Jesus declared, "Now is the Son of Man glorified, and God is glorified in him…"
This does not seem to correspond to our ideas of glory, which probably include greatness, power, bright lights, and myriads of angels singing polyphonic hosannas. At least, that's what we see in art and cinema, and our imaginations can be flattened by these ideas. We can also have "flattened" ideas about Christ's suffering and death! Because the crucifix is familiar, and the truth that we are saved by it is repeated so often, we can lose sight of the reality of the life of the Lord and the way it transformed our lives!
Jesus truly came from the Father, setting aside his glory, to dwell among us and act and teach and willingly suffer to save us! Jesus laid down his life so that we might be truly alive, and so that he could please his Father by fulfilling His will for our eternal life. The Catechism tells us that "The world was created for the glory of God." Not a glory that insists on its own gloriousness, but a glory that delights in pouring out immeasurable and infinite LOVE.
As we ponder the Passion this week, we must ask for the grace to see anew that God is glorified by Christ's (and our) loving obedience. As Judas sets out with determination to betray Jesus, the Way of the Cross is set in motion, and it is this Way that glorifies the Father because it demonstrates the Son's total loving obedience: Jesus passed onto his disciples the living truth of the Father, and then "humbled himself and became obedient, even unto death, death on a cross" (Phil 2:8).
Jesus' self-gift is more than words; his love for the Father is more than words. It isn't enough to say, "I give myself completely to you." Complete self-giving is demonstrated when we pour ourselves out (in time, energy, attention, and love), not when we talk about how generous we are. I can say that I love you, but you know it's true when I set aside what I want to help give you what YOU want. I can say I would give someone one of my kidneys, but it is only words until I have the opportunity to submit myself to surgery! Words must be proved by action.
Jesus prayed in the Garden, "Not my will, but Yours be done." On the Cross, Jesus proves that his words are true. It is by his complete immolation on the Cross that Jesus fulfills the Father's will wholly, without reserving anything for himself. It is this complete self-gift, for love of the Father and for us, that glorifies Jesus, and the Father in him.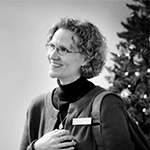 Kathryn Mulderink, MA, is married to Robert, Station Manager for Holy Family Radio. Together they have seven children (including newly ordained Father Rob and seminarian Luke ;-), and two grandchildren. She is a Secular Discalced Carmelite and has published five books and many articles. Over the last 25 years, she has worked as a teacher, headmistress, catechist, Pastoral Associate, and DRE. Currently, she serves the Church as a writer and voice talent for Catholic Radio, by publishing and speaking, and by collaborating with the diocesan Office of Catechesis, various parishes, and other ministries to lead others to encounter Christ and engage their faith. Her website is https://www.kathryntherese.com/.
Feature Image Credit: Policraticus, https://www.cathopic.com/photo/10564-miada-cristo-cruz