Did you ever spend a lot of time and energy trying to convince someone of something that seems so obvious you shouldn't have to explain it? You may have been tempted to say, "What is wrong with you?! It's so obvious?!" Maybe Jesus felt that kind of exasperation with the ruling Jews.
Jesus is still trying to help "the Jews" see what should be obvious to them. They know the Scriptures inside and out, and so they should easily recognize the One Who IS the fulfillment of the Scriptures. In today's Gospel, Jesus speaks their own language to them, as it were. He "presents his case" in the format they are familiar with, citing witnesses and testimonies. But then Jesus cuts right to the heart of the matter, as he usually does: "You do not want to come to me to have life… (Y)ou do not have the love of God in you." The true reason that they cannot see Truth before them is that their hearts are closed.
What has closed them off? In the next sentence, Jesus names their blinding fault: "you accept praise from one another and do not seek the praise that comes from the only God…" Wow. Because their desire is only for worldly acknowledgment and gain (what I call the "5 P's" of popularity, prestige, power, pleasure, and prosperity), they have closed their hearts to real spiritual gain.
Even as Jesus dialogues with them in a way they should understand, even though he presents "an airtight case," they cannot see because they are seeking something else and looking elsewhere.
We can be like that too. Our lives are a stream of busy-ness and distraction, scrolling and trolling, so that we forget to seek the ONE THING that matters. And yet the Lord keeps calling us to Himself.
Have you ever been doing something that seems "not religious" and suddenly been moved deeply by something so beautiful or good or true? These are blessed moments in which the Lord is speaking to us in a way that we can hear, getting our attention, and they don't always happen at church! The Lord is always coming to us in ways that are familiar so that we can hear him: a song, a friend, a prayer, a story, a walk, even a movie. We may be tempted to dismiss it as nothing, or chance, or fatigue! But we should learn to recognize that these are often ways that Heaven breaks through and reminds us that there is more.
"If today you hear his voice, harden not your hearts!" (Heb 3:7).
During these last days of Lent, let's work to keep our hearts alert and aligned to God's will, open to whatever he is calling us to do.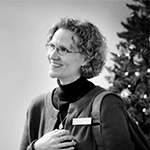 Kathryn Mulderink, MA, is married to Robert, Station Manager for Holy Family Radio. Together they have seven children (including newly ordained Father Rob and seminarian Luke ;-), and two grandchildren. She is a Secular Discalced Carmelite and has published five books and many articles. Over the last 25 years, she has worked as a teacher, headmistress, catechist, Pastoral Associate, and DRE. Currently, she serves the Church as a writer and voice talent for Catholic Radio, by publishing and speaking, and by collaborating with the diocesan Office of Catechesis, various parishes, and other ministries to lead others to encounter Christ and engage their faith. Her website is https://www.kathryntherese.com/.
Feature Image Credit: Timothy Eberly, https://unsplash.com/photos/VgvMDrPoCN4