The first signs of spring are a reason for rejoicing in the colder, northern regions. Here in West Michigan, all the snow has melted, the birds are singing as morning dawns, and although the nights are still crisp, the days are growing warmer. There is no telling when that white stuff might randomly fly a few more times between now and early May, but the promise that spring officially starts in just 3 days fills us with hope. 
The sun's welcome rays warm us longer and longer each day and the kids start asking to get their bikes and scooters out. Just a week or so ago they were complaining that there was too much snow and they wanted to play soccer on the grass, and now they ask, "Can I just wear my sweatshirt today?" when it's barely 45 degrees out. Yet, mommy is excited too and starts putting away winter gear and getting their Easter baskets ready. 
We celebrated Laetare Sunday this past weekend, so we know we are closer to Easter than we are to Ash Wednesday. In just two weeks, we will be in the midst of Holy Week. And just as the promise of spring brings us hope, so does the promise of Easter, the highest feast of the whole Liturgical Year. 
Perhaps you're like me and love to anticipate special times and special days. Perhaps you book your vacations months in advance and already have your Christmas presents bought and wrapped by October. But the truth is, we still have work to do. Lent is not over yet. And the most intense days are still to come. 
Today's Gospel foreshadows Jesus' death with these words: "Jesus answered the Jews: 'My Father is at work until now, so I am at work.' For this reason they tried all the more to kill him, because he not only broke the Sabbath but he also called God his own father, making himself equal to God."
It is so easy to get angry with the Jews and exclaim, "Don't they get it?! Why don't they understand?! He IS equal to God!!" Yet in our own hearts we may still deny him. That little white lie, that burst of unnecessary anger, that silent treatment we gave our loved one, that busyness we allowed when we should have taken time to pray…
Yes, it is tempting to look ahead to the sunshine after the storm, yet we are still called to endure it a little while longer. Let us continue to weed out what prevents us from getting closer to him, remembering all the while that "The Lord is gracious and merciful." (Today's Psalm)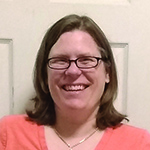 Tami Urcia grew up in Western Michigan, a middle child in a large Catholic family. She spent early young adulthood as a missionary in Mexico, studying theology and philosophy, then worked and traveled extensively before finishing her Bachelor's Degree in Western Kentucky. She loves tackling home improvement projects, finding fun ways to keep her four boys occupied, quiet conversation with the hubby and finding unique ways to love. She works at her parish, is a guest blogger on CatholicMom.com and BlessedIsShe.net, runs her own blog at https://togetherandalways.wordpress.com and has been doing Spanish translations on the side for almost 20 years.
Feature Image Credit: Biegun Wschodni, https://unsplash.com/photos/ZloDJXzcMGA