Does it seem like your prayers are unanswered, or your petitions are tossed into a void? Do you weary of asking for things because it seems you will never receive them? Do you ever wonder whether Christ's Heart can be moved toward you?
What moves the Heart of Christ?
In today's Gospel, a royal official who is concerned for his dying son travels 20 miles to ask Jesus to come and heal him. Jesus seems to brush him off, but the official is undeterred and asks again. Then Jesus tells him that he can go, his son will live. What moves Jesus to grant this healing? Perhaps the answer is found in the next line: "The man believed what Jesus said to him and left." The man believed. Clearly, he believed from the beginning or he would not have left his dying son to find Jesus. He would not have insisted when Jesus seemed to dismiss him. He would not have headed back home without Jesus, if he did not believe that Jesus' word is also ACT. He must have also had a level of humility, as his traveling to find Jesus would have been ridiculed by many.
On his way back, the man's humility and faith were rewarded when his slaves met him with the happy news that his son was recovering – and had begun to recover at the precise hour of Jesus' word to him. This miraculous healing was the catalyst for conversion for the whole household!
So, is Jesus' Heart moved to act for you?
What do you have to do to make sure God hears your prayers?
It's important to remember that this is the oldest temptation on record! In Eden, the Enemy convinced Adam and Eve that God was not really FOR them, that He was holding something back from them, and so they reached for something that was not meant for them. They seemed to forget every good thing God had poured over them, and grasped for more, letting trust in God shrivel up in their hearts.
This Lent, we again have the opportunity to focus with the whole Church on the many and great gifts God has given us in Christ, and to see anew that Jesus really loves us and gave himself FOR US. This should feed our loving trust, strengthen our faith, and embolden our prayers, knowing that God gives us everything we need and more. But He does not simply give us everything we think we need; He gives us everything He knows we need to fulfill His will for us.
So it can be helpful to remember that God has three answers to prayer:
Yes!
Not right now.
Actually, I have a better idea.
How is the Heart of Jesus answering your faith-filled prayers right now?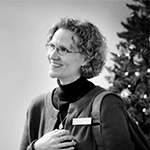 Kathryn Mulderink, MA, is married to Robert, Station Manager for Holy Family Radio. Together they have seven children (including newly ordained Father Rob and seminarian Luke ;-), and two grandchildren. She is a Secular Discalced Carmelite and has published five books and many articles. Over the last 25 years, she has worked as a teacher, headmistress, catechist, Pastoral Associate, and DRE. Currently, she serves the Church as a writer and voice talent for Catholic Radio, by publishing and speaking, and by collaborating with the diocesan Office of Catechesis, various parishes, and other ministries to lead others to encounter Christ and engage their faith. Her website is https://www.kathryntherese.com/.
Feature Image Credit: Luis Ca, https://www.cathopic.com/photo/3072-corazon-amoroso