"If today you hear His voice, harden not your hearts."
Today's Responsorial Psalm fits perfectly into my life, with yesterday being my last day at Diocesan and saying a scared, "Yes," to God's voice calling me to work with Pentecost Today USA, a Catholic charismatic renewal organization. 
So today I sit here, having just moved from Michigan to Pennsylvania and while I have heard His voice and allowed Him to move me where His Church needs me… I'm kinda terrified!
It takes an intense kind of faith and trust in the Lord to be brave, to have the strength and awareness to say yes to God's wonderfully laid plan, not just your own. It's the kind of faith that really makes you stop, look at your life, and remember that everything that has led you to this moment of faith, this moment of trembling trust, has been a part of a greater plan for you. 
Looking back at your life, you can begin to see the patterns, the way lost love can help you reprioritize, the way lost jobs can help you grow, the way lost faith can help bring you closer to God. These challenges can often give way to such a greater life and love if we only trust in God. 
This Lent, make the time to hear our Father's call to you. 
The first step is just silencing your world enough to hear His voice.
Then listen. Truly listen. Hear Him out. 
He has beautiful plans laid out for you, His child.
Join me in praying:
Heavenly Father,
You call us by name from the path you have laid for us.
You know all and invite us to fall deeper into faith, deeper into love.
We ask you to speak to us through others,
Speak to us through the silence, 
Speak to us through the breeze, through the rustling of leaves.
Let us hear your calling out and open, not harden, our hearts to You.
Give me the strength, the faith, the trust, to take the first step to saying yes.
You have such beautiful plans for me,
More beautiful than I could ever know.
Let me hear you, Lord. 
Amen.
Click here to learn more about the Catholic Charismatic Renewal in the US or click here to find a group near you!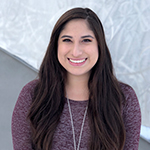 Veronica Alvarado is a born and raised Texan currently living in Michigan. Since graduating from Texas A&M University, Veronica has published various articles in the Catholic Diocese of Austin's official newspaper, the Catholic Spirit, and other local publications. She now works as the Content Specialist in Diocesan's Web Department.
Feature Image Credit: Guido Coppa, https://unsplash.com/photos/Hp1VAPKQ3fs