Rejection is often a difficult pill to swallow. At some point in life, everyone experiences rejection. Maybe it was from your high school sweetheart, a boss or job interview gone sour, your coveted university, a parent or significant adult figure. The list goes on. Some rejections are minor injuries. They sting in the moment but we bounce back, healing quickly with a good lesson learned. Other rejections cut more deeply, their wounds can fester and push against healing salves. These wounds can shape who we are, or at least our perception of who we are.
The Gospel today is a challenging one. Jesus' parable of the master and the unruly tenants pushes us to look closely at our own lives. When God reaches out to us, are we receptive to His summons, or do we behave like the tenants? 
Jesus is utilizing this parable to teach multiple lessons. It's about our relationship with the master, God the Father. It's about obedience to the call of the Kingdom, to be productive workers within God's good order. It's about opening the Kingdom of God to all people, not just the chosen people of Israel. Significantly, it is also about Jesus' own person and His role in the story of salvation. Jesus is the son that was slain, Jesus is the stone which the builders rejected. 
As Lent continues, we struggle to keep pace with our Lenten fasts. These fasts, these rejections, serve a number of purposes. Fasting teaches us self discipline. A well chosen fast will highlight areas of our life that we are clinging too tightly to. Fasting is also the conscious choice to reject something because we see that rejection can have a higher purpose as it draws us closer to God.
As it happens, there are two sides to rejection. There is rejection which wounds, but there can also be rejection which heals and brings growth. When Jesus died on the cross, He took the rejection handed to Him by humanity and flipped it over. Through His wounds, life springs forth and healing becomes possible between us and our Creator. We are called to a similar view. When we feel rejection, we can let the wound fester or we can look for the other side of the coin. When we choose to reject, we should look carefully at whether we are causing injury to ourselves or others, or finding a way to promote healing and growth.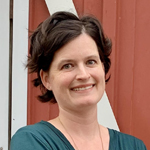 Kate Taliaferro is an Air Force wife and mother. She is blessed to be able to homeschool, bake bread and fold endless piles of laundry. When not planning a school day, writing a blog post or cooking pasta, Kate can be found curled up with a book or working with some kind of fiber craft. Kate blogs at DailyGraces.net.
Feature Image Credit: eak_kkk, https://pixabay.com/photos/more-information-fragrapanti-1174122/