This Gospel story shares about Lazarus, a poor man resting at the gate of the rich man, who is longing for the scraps from the rich person's excess. Despite his intense need, the owner of the home ignores him and fails to offer even the smallest consolation. Just a small act of kindness could have a significant impact on this poor man, yet the rich man takes no notice.
Jesus tells us that, "when the poor man died, he was carried away by angels to the bosom of Abraham", while the rich man was condemned to hell.  He makes it abundantly clear that when God gives us opportunities to help others we are expected to act.  Often, these opportunities aren't even that difficult or challenging, as was the case of the poor man resting in the rich man's very doorway.  He didn't even have to leave his own house; that person in need of assistance was right in front of him, sitting on his front steps! Jesus is pointing out that often what we need to do is right in front of us; it doesn't require a lot of thought or effort, merely a desire to serve and love others. 
Jesus goes on to recount how the rich man, who upon his death was suffering in hell, thought of his brothers and longed for the chance to warn them so they would have a chance for salvation. Often, we hope and pray for miracles or divine intervention for those we love so they might experience greater faith, but do we consider how our actions and how we treat people may be the exact witness to the Gospel they need to see in order to fully embrace it?  Jesus leaves us with the powerful words, "If they will not listen to Moses and the prophets, neither will they be persuaded if someone should rise from the dead."  May we not only seek to have faith ourselves, but put it into action in our lives each day when opportunities present themselves in order to be a witness to others.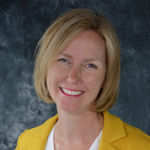 Emily Jaminet is a Catholic author, speaker, radio personality, wife, and mother of seven children. She earned a bachelor's degree in mental health and human services from the Franciscan University of Steubenville.  She is the co-founder of www.inspirethefaith.com and the Executive Director of The Sacred Heart Enthronement Network www.WelcomeHisHeart.com. She has co-authored several Catholic books and her next one, Secrets of the Sacred Heart: Claiming Jesus' Twelve Promises in Your Life, comes out in Oct. 2020. Emily serves on the board of the Columbus Catholic Women's Conference, contributes to Relevant Radio and Catholic Mom.com.
Feature Image Credit: Vanesa Guerrero, rpm, https://www.cathopic.com/photo/2920-puertas-abiertas