Lent is well underway, with today being the second Wednesday of this holy season. Typically, it's the time that I usually catch myself slipping on my intentions for the season as well. This year I'm working on fasting from cynicism, snarkiness and complaining (csc).

Yes, you read that correctly. I'm trying to treat csc as the hunter's snare or a path that causes another person pain, injury or unjust persecution. I'm trying to catch myself before I act on those thoughts, either in my mind or out loud, spoken or typed, in public or private.

It is a struggle, to be sure, but not an unusual one. In the reading from Jeremiah, the people of Judah and Jerusalem look to 'destroy him by his own tongue…carefully note his every word.' The Psalm takes this issue up by referring to 'the snare they set for me.'

'God himself will set me free from the hunter's snare,' is prayed every morning and evening in the Liturgy of the Hours during Lent. It reminds me that I must turn to God to help me avoid the traps and situations which can lead me into a bad or sinful choice.

I must remember that Jesus, the Son of Man, my God and my all, came to earth and gave his life as a ransom, a sacrifice for me and for the whole world. He was ransomed so I, so you, can be set free.

Today is the feast of St. Katharine Drexel She is a great example of setting aside the trappings of this world (including wealth and comfort in high society) to work for racial and social justice, especially for Native Americans and African Americans.
Pray with me these words of St. Katharine 'Mother' Drexel as the path of this Lenten journey continues.

"Teach me to know your Son intimately, to love Him ardently, and to follow Him closely.

It is a lesson we all need – to let alone the things that do not concern us. He has other ways for others to follow Him; all do not go by the same path. It is for each of us to learn the path by which He requires us to follow Him and to follow Him in that path.
The patient and humble endurance of the cross – whatever nature it may be – is the highest work we have to do." Amen.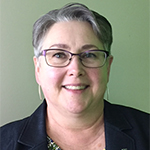 Beth Price is part of the customer care team at Diocesan. She brings a unique depth of experience to the group due to her time spent in education, parish ministries, sales and the service industry over the last 25 yrs. She is a practicing spiritual director as well as a Secular Franciscan (OFS). Beth is quick to offer a laugh, a prayer or smile to all she comes in contact with. Reach her here bprice@diocesan.com.
Feature Image Credit: Daniel Joshua, https://unsplash.com/photos/nOPoCBNWTb0