The Psalm today ends with the line "My soul has hoped in the Lord." What does it mean to have hope?
We use the word hope in many different ways throughout our day. We could hope that the pizza we ordered is delivered on time. We could hope that we get the promotion at work. Or we could hope that the weather cooperates so we can enjoy a day outside.
But the Catholic Church sees hope as more than that. According to the Catechism of the Catholic Church, "hope is the theological virtue by which we desire the kingdom of heaven and eternal life as our happiness, placing our trust in Christ's promises and relying not on our own strength, but on the help of the grace of the Holy Spirit." It goes on to say: "The virtue of hope responds to the aspiration to happiness which God has placed in the heart of every man; it takes up the hopes that inspire men's activities and purifies them so as to order them to the Kingdom of heaven; it keeps man from discouragement; it sustains him during times of abandonment; it opens up his heart in expectation of eternal beatitude. Buoyed up by hope, he is preserved from selfishness and led to the happiness that flows from charity."
Wow! When we read that, we can't help but feel encouraged. Hope is so much more than a wish or a desire.
When we put it in a theological perspective, we understand that hope is what will lead us to Christ. Yet we see also that hope requires action on our part. We can't just hope that we get to heaven and then sit back and not work toward attaining it. Further, we must allow God to work through us. As the Catechism says, hope as a virtue takes that innate desire for happiness and purifies it, or makes it good, so that any resultant desire or action will glorify God, thereby leading us to Him.
It is our hope in Christ that convinces us that He walks with us through our trials, that He carries us in times of extreme difficulty, and that He will never leave us. It is our hope that tells us there is something more than our lives here on earth. It is our hope that tells us that, even though our lives may be complicated or even when we experience personal tragedies, Christ loves us and wants us for all eternity. Imagine that! He wants us! We can't help but rejoice in that knowledge!
We need this hope today! Divisions within the country and even divisions within the Church can drain us. Like a dried-out sponge that needs liquid to fulfill its sponge-like nature, we crave a nourishment that will enliven us and make us new. That nourishment is our Lord.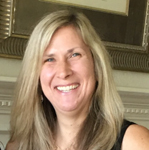 Susan Ciancio has a BA in psychology and a BA in sociology from the University of Notre Dame, with an MA in liberal studies from Indiana University. For the past 17 years, she has worked as a professional editor and writer, editing both fiction and nonfiction books, magazine articles, blogs, educational lessons, professional materials and website content. Eleven of those years have been in the pro-life sector. Currently Susan freelances and writes weekly for HLI, edits for American Life League, and is the editor of Celebrate Life Magazine. She also serves as executive editor for the Culture of Life Studies Program-an educational nonprofit program for K-12 students.
Feature Image Credit: Leonel Rodriguez, https://www.cathopic.com/photo/8873-rodillas-frente-padre