"At the judgment," Jesus says in today's Gospel, "the queen of the south will rise with the men of this generation and she will condemn them….(T)he men of Nineveh will arise with this generation and condemn it." Why will "this generation" be condemned? Because they will not accept him as their salvation! The people of Nineveh and the Queen of Sheba were open to the truth, and so, even though they were not part of the Chosen People, they accepted the wisdom of their God. They recognized Truth when they heard it.
Will they really "condemn" others? Not in the sense of exercising the power of judgment against them (this belongs to Christ alone), but only in the sense that their actions and choices will be seen to be superior to the actions and choices of "the Jews" of Jesus' time, according to Venerable Bede.
Jesus is again pleading with the people to see and accept the Truth that he has come to proclaim, so he points to familiar events of the past to say, "Even THESE people recognized and were open to the Truth – these Gentiles! Surely, you are in a better position to choose rightly than they were!" And he seems to give a little "clue" that will make sense to them later, if they dare to consider it after the Resurrection: Just as Jonah spent three days in the belly of a whale (during which time he would be presumed dead) and came out alive, so Jesus will be killed and spend three days in the earth and emerge alive and glorified. Will they accept him then?
We might take these words of Jesus to prayer and ask him to show us any hidden or subtle resistance we have to accepting Him fully. Lent is the time set aside each year when we examine our hearts more thoroughly, and ask for the grace to see what obstacles we may yet have to God's Truth and saving action in our lives.
What distractions do I allow to keep me from spending more time with Jesus?
What am I still striving for, except Jesus?
What do I think I need to remain safe and happy, beyond Jesus?
Where am I still afraid to surrender fully to Jesus?
What do I think I need to do to become my best self, besides Jesus?
Lent is a time to appreciate again, anew, aright, that the overwhelming love that Jesus has for me drove him all the way to the Cross – because he knew that without the Cross, I could not find joy or security or peace, and I could not be with him forever! It is the thought of losing me that kept him going through his long Passion. The thought of losing HIM should keep me going through the little self-denials of Lent.
Let's let go of all that is not valuable this Lent, so that our hands are free to embrace our Savior fully.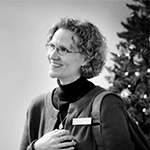 Kathryn Mulderink, MA, is married to Robert, Station Manager for Holy Family Radio. Together they have seven children (including newly ordained Father Rob and seminarian Luke ;-), and two grandchildren. She is a Secular Discalced Carmelite and has published five books and many articles. Over the last 25 years, she has worked as a teacher, headmistress, catechist, Pastoral Associate, and DRE. Currently, she serves the Church as a writer and voice talent for Catholic Radio, by publishing and speaking, and by collaborating with the diocesan Office of Catechesis, various parishes, and other ministries to lead others to encounter Christ and engage their faith. Her website is https://www.kathryntherese.com/.
Feature Image Credit: djedj, https://pixabay.com/photos/pieta-christ-passion-basilique-1864077/