Gn 9:8-15 is one of our first introductions to the word "covenant". The word speaks of God's promise to us. It is not through our works that we will receive grace, but through God's goodness. In His covenant to Noah, God vows to make a covenant between Himself and the earth. Is this not a foreshadowing of the ultimate covenant He establishes for us in sending His only begotten Son, God incarnate, to us? 
As we recall in today's Gospel, Christ came down to live the human experience, both its joys and its sorrows. His forty days in the desert are only the beginning of this great sacrifice. Through Christ, God shows that His love for us surpasses all. In times where we may question "where are you Lord?" we must recall that God is always with us through His beloved Son Christ. How infinitely blessed are we, who, made from dust, can now encounter the joys of eternal salvation!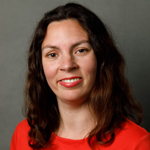 Dr. Alexis Dallara-Marsh is a board-certified neurologist who practices in Bergen County, NJ. She is a wife to her best friend, Akeem, and a mother of two little ones on Earth and two others in heaven above.
Feature Image Credit: David Brooke Martin, unsplash.com