Day Two of Lent and we are well on our way along the well-worn paths of Lenten themes. Jesus comes out strong today with some classic Lenten phrases: "Deny yourself, take up your cross, follow me," and "Whoever loses his life will save it." You might be thinking, "Woah there, Lent just got started. Isn't that a little strong for the opener?"
Both yes and no, from my perspective at least. Yes, this is a strong way to begin Lent. Just look at the last line of today's Gospel, "What profit is there for one to gain the whole world, yet lose or forfeit himself?" These are revolutionary words since they go against pretty much all of human nature. Consider the first sin of Adam and Eve. They grasped for what they thought would make them happy, would broaden their horizons. But at what cost? 
Up and down the centuries, this sin of pride and greed, this grasping for what is out of our reach, has thwarted the best and worst of us alike. We all struggle with a deep fear that what we have will be taken away and we will be left without. So we work, we grasp, to gain whatever we can that we think will protect us from this fear. Jesus is pressing on that fear, deftly identifying with surgical precision the root of the human condition. Lent is here, get it into gear says Jesus.
At the start of Lent, a time when we are supposed to take the time to look inward and discover where we need to grow, Jesus is pointing out to each one of us a good place to start. What are we fearful to lose? What are we doing or acquiring that we think will alleviate that fear? How much time or space does it consume?
Perhaps you are thinking to yourself, "I don't want to gain the whole world. I'm not some mad scientist trying to take over the world after all. I just want to be comfortable, to have security for the future, food on the table, normal stuff." I'm glad you're not a mad scientist or evil genius, but Jesus is asking you to consider stretching yourself this Lent. What does it mean to be "comfortable?" What would Jesus consider "comfortable" if He walked into your home today? 
Are we supposed to care for and provide for the families God has given us? Yes, of course! But we are also supposed to care for our neighbors, strangers, others, with love and support as well. 
Lent is a time where purposefully widen our gaze. The world encourages tunnel vision – I do me and you do you. We are called to something more. We are members of a community, a Body. We lose ourselves when we struggle to gain alone. We find ourselves when we work together for the good of each person in our community.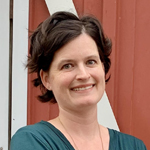 Kate Taliaferro is an Air Force wife and mother. She is blessed to be able to homeschool, bake bread and fold endless piles of laundry. When not planning a school day, writing a blog post or cooking pasta, Kate can be found curled up with a book or working with some kind of fiber craft. Kate blogs at DailyGraces.net.
Feature Image Credit: prettysleepy1, https://pixabay.com/illustrations/steam-punk-steampunk-background-3160715/